Being an underemployed professional driver at the Nürburgring might sound absurd, but it's no joke when you're living through it! You can't eat VLN trophies, and ringtaxi reviews don't pay the mortgage when you don't have a taxi anymore.
That's why, in March of this year, I offered to create more content on BTG, and bring my 23 years of Nordschleife experience back to YouTube. But there was a catch…
I was asking regular fans and BTG members to pledge as little (from 99¢) or as much as they wanted to, in a monthly subscription fee. All the usual stuff would carry on being free, and, amongst the newer stuff, would be a few pieces just for the subscribers.
Pressing "SEND" on that post, explaining that BTG would become a subscription-based site, was terrifying. But for every BTGer who noisily declared that they would unfollow me, two or three stepped up and pledged a little something through patreon.com/btgdale.
Following the declaration that April 1st would be a "whole new era" for BTG, I faced a few problems. My first was getting stuck the wrong side of a quarantine, which meant I missed the glorious sunny Easter weekend. And when I exited the Big-Q, it was directly into a snowy week. No filming. Erk.
Next I had another one of my great ideas. I decided that I wanted to review #ringtools and put them on a leaderboard (see this now hidden video link). But Touristenfahrten is for tourists to fahrt in. If you want to objectively (or subjectively) rank a vehicle based on its performance around the Nürburgring… guess what? You better hire the track. That's what the magazines do, that's what the manufacturers do. I tried removing performance from the equation, but the answer, understandably, was still no.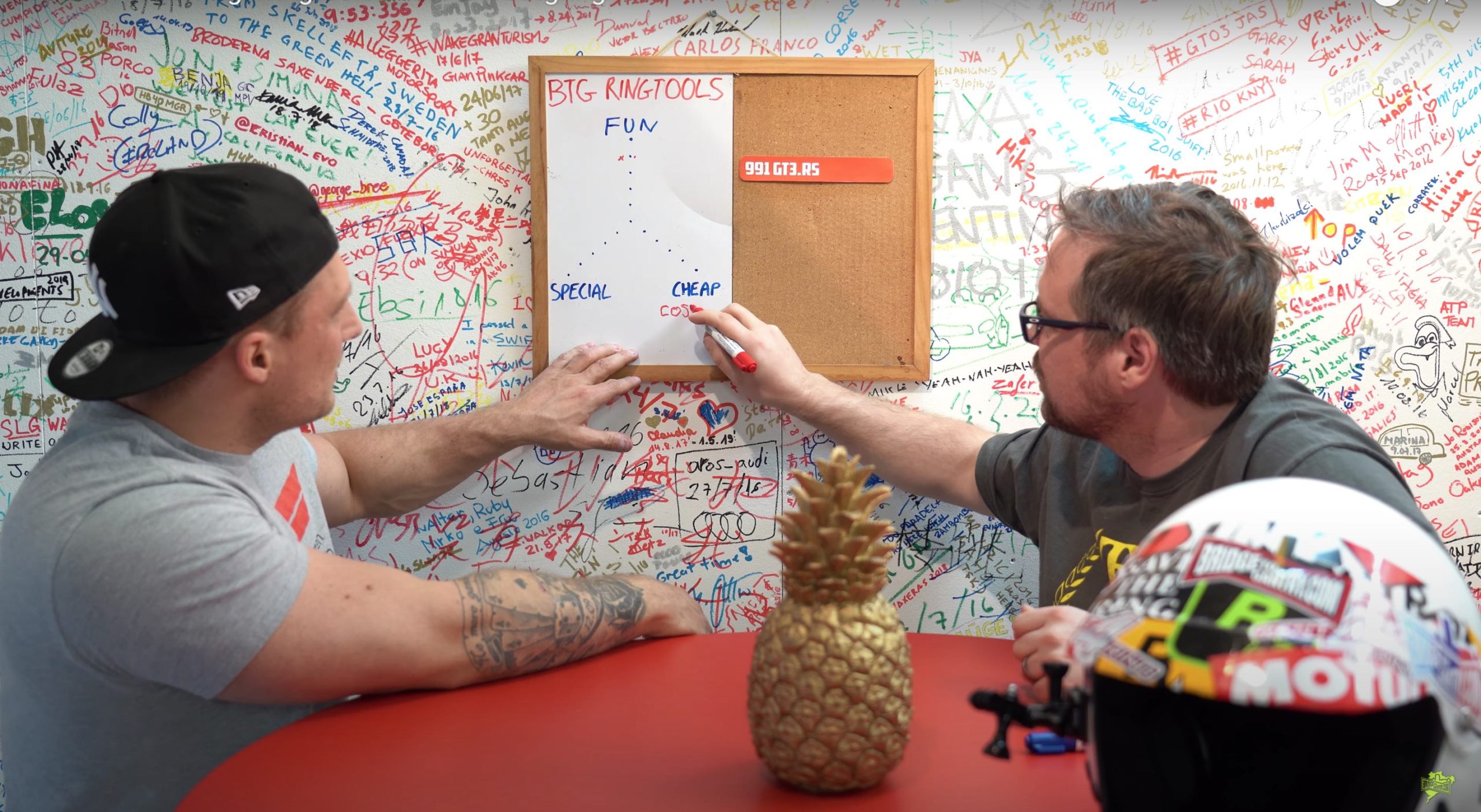 It's both immensely gratifying, and somewhat frustrating, to be counted as one of the "important" YouTubers by the Nürburgring. Let's list the good things about that first:
We have a direct line of communication with each other, even out of hours
Every video is approved by the Nürburgring management
The bad news is:
We have a direct line of communication with each other, even out of hours
Every video must be approved by the Nürburgring management
What does that mean? It means the biggest change for me is; PLANNING.
Previously my channel would be like a dumping ground for all the crazy stuff I see and do every season. Not many plans, just a place to upload what happened that day.
NOPE. Not any more. Now I have to plan, hope for good weather, let the management know what I'm doing and get written permission. Absolutely normal standard practice in any other profession, I readily admit. But one that I'm still adjusting to.
I'm getting more into the groove now, and at the end of my first month of "full-time" BTG content creation I've already managed to publish four videos fresh outta #touristenfahrten! Three for everybody, one just for the Patreons. Hint, you can subscribe for less than a large bier!
So how is it going, Dale?!
It's going OK. I didn't actually starve this month, you might have noticed that. My Youtube earnings spiked from €10 per month to around €90 per month. No, I didn't miss a zero. So I'm still depending on what little freelance IT, design and social media stuff I can find around here. And for a region that runs on tourism, that ain't much in these COVID times.
My Patreons are enjoying the solid 20% reductions on all BTG merchandise, some upcoming Patreon-exclusive gear (sssh), as well as a direct line of communication with me and each other through both the Patreon platform, and our BTG Discord server.
So what are you asking for?!
Easy. Sharing is caring. If you're enjoying the videos, share them with other friends who might like them too. If you're a happy Patreon, share it! If you're unhappy, share that too, and let me know what you want to see more of on BTG.
ALSO? #RINGTOOLS! Send me your ringtools! Post them in the discord, tag me on instagram, whatever. But I want to meet more interesting people and share the cars you've built!
I've linked my next video below. A whole story will be published about this car soon!
Comments
comments