You can't deny it. After years of officially abstaining from Nürburgring Nordschleife lap record banter, Porsche are absolutely owning it.
Fastest production road car? Check. The GT2RS lap with Lars Kern at the helm absolutely nailed it.
Fastest race car lap? Well the boys and girls from Weissach already own the race lap record, and have done for the last 35 years. It's 6m25.91s, set by Stefan Bellof during the 1983 1000km of Nürburgring, the only year that these cars ran on 'our' 12.9 mile modern configuration. He crashed, uninjured, on the very next lap at Pflanzgarten 3 (which we now call Bellof Esses).
And in qualifying he pushed his Porsche 956 Group C machine around in an astonishing 6m11.13s. The outright fastest lap anybody can ever claim to have done…
Until today.
Because today Timo Bernhard, under controlled conditions, drove a special version of the famous Porsche 919 Hybrid LMP1 car around the 12.9 mile Nürburgring Nordschleife four times. The fourth lap was completed in 5m19.55s.
It started with a 6m38.57s at 8am on the dot… this sighting lap being completed on part-worn tyres. The next warm-up lap looked a bit quicker from my viewpoint at Hohe Acht. Later persual of Porsche twitter accounts confirmed Timo's lap at 5m31.899s.
Lap 3? 5m24.36. But that wasn't enough.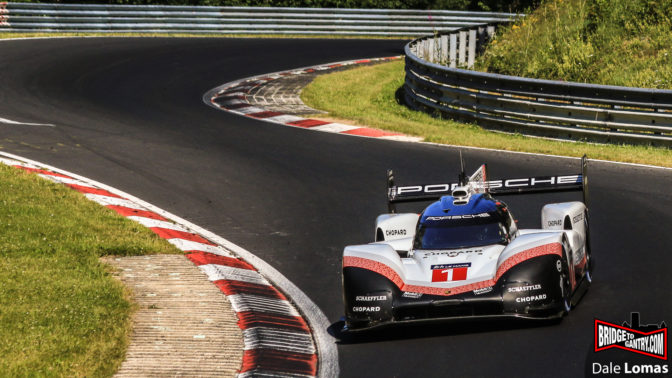 Lap 4 arrived, and as I stood at Wipperman, watching the skid plates of the carbon-fibre monocoque machine scuff the surface under compression, I knew in my heart that this was going be even faster, and, sadly, fastest. As in, they won't send him out again.
Because this was enough. Bellof's achievement in 1983, in race conditions, with no ABS, with a manual gearbox and no real computers, was over a minute slower. Porsche, the corporate identity, the global marketing machine, had destroyed their own record. Job done.
And that's why, as amazing as the 5m19s laptime might be, it's also a little bit hollow. It's a trophy made of tin foil. There's very little blood, sweat or tears to be found here, just a hell of a lot of flown-in journalists, social media 'influencers', and various other hangers-on.
If there was a 1000km race here again, with Audi, Toyota, Porsche all fighting with their own incredible LMP1s, then we'd get a real lap record. A racing record.
This was, unfortunately, just a demonstration run. A glorious, wonderful, technically astounding and emotionally draining lap. But, cyncially, you could say it's just fodder for the social media machine, and that it's not the real stuff of legends.
That's just my opinion… but what's yours?
Comments
comments