Three posts in three days, all about the same subject. Yep, the hot topic at the 'Ring is still that drift lap of the Nordschleife. After my last two posts I hope that my own position is simply understood:
I love the execution, commitment and style of Vaughn Gittin Jnr's project. The machinery, the driving, the creative talent… it's all next level.
But saying it's the first ever full 'drift lap' of the 'Ring on the basis of a 2-minute short video left me cold. Especially when I know so many great drifters who've had a crack at it decades before, just without the support or machinery or PR juggernaut available to VGJ (Vaughn Gittin Jnr).
So with that in mind, I'm delighted to tell you that VGJ himself reached out to me last night, and we had a few words…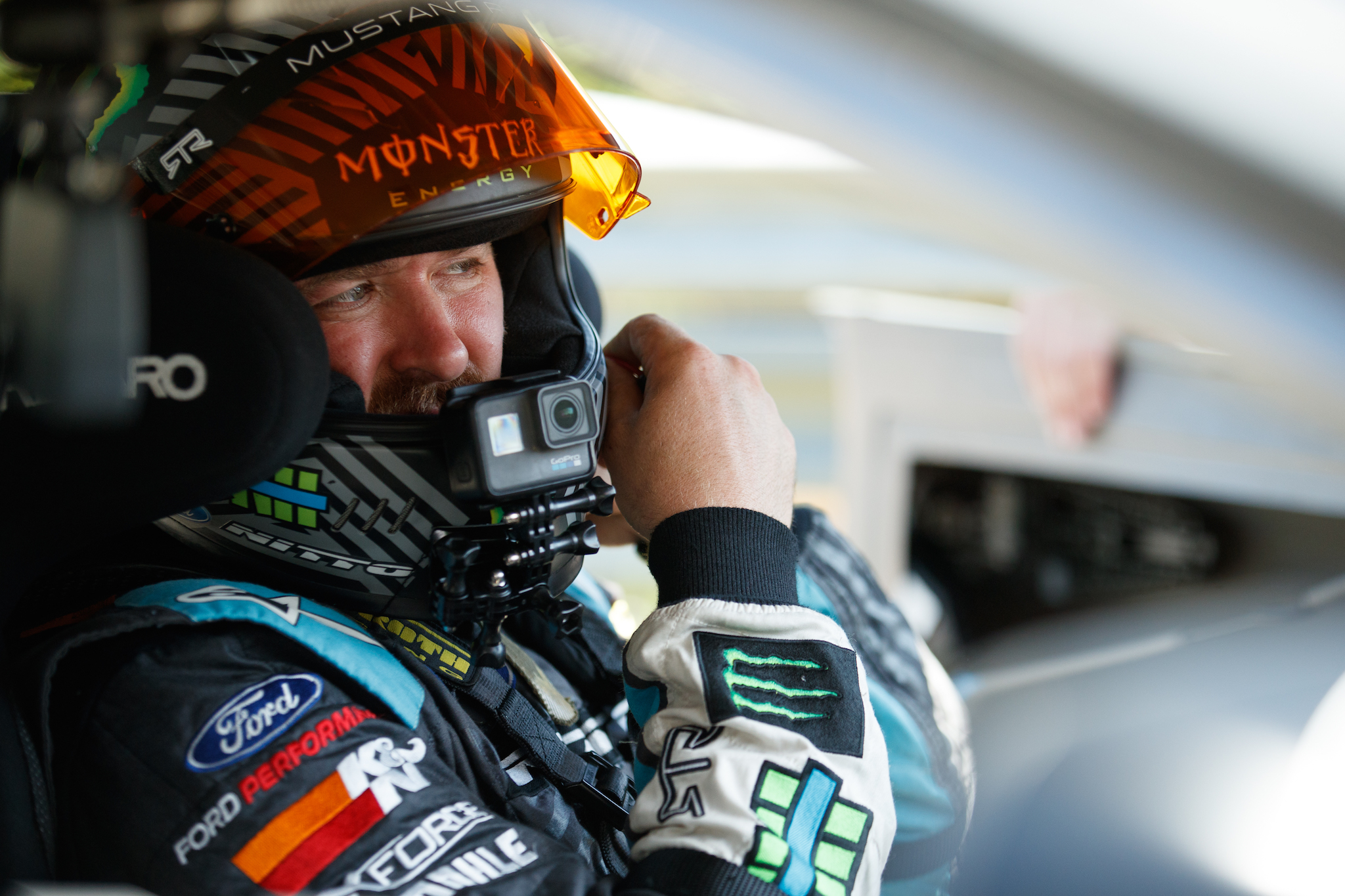 BTG: First of all, congratulations on a stunning production. It's proper next level filmography. But I do want to talk about the contentious claim that you are the first guy to drift the entire Nürburgring Nordschleife.
VGJ: Thanks! It has been a dream of mine to do a full on drift attack at the Nordschleife for a very long time. After some weather-induced heartbreak last year, I am pumped that the wild weather system out there allowed me to pull it off as it has been a serious effort for a number of years to make reality! I am forever grateful for the team and partners that believed in it and worked so hard to make it happen! I am elated how much everyone is enjoying it!

I cannot wait for everyone to see the longer edit that will drop through Monster energy October 2nd!
BTG: Have you seen previous attempts, and if you have, why is yours the first true drift lap of the Nordschleife?
VGJ: I have not seen any attempts to drift and link the entire Nordschleife. I have seen sections being drifted on some videos and during demos. I have of course seen Stefan Roser manhandle the Yellowbird around and sliding around a lot of the corners (that is one of my favorite videos ever!). Since we released this I have been shown a video of a Mercedes with a tire sprayer on what I believe to be a partially wet track drift some sections of the ring as well. All of the drivers are impressive for even attempting drifting on the Nordschliefe and they have my full respect without a doubt.

I did this to fulfill a personal dream that I also thought would be entertaining to watch. What we accomplished at the Ring has never been done before. There is really nothing to dispute for anyone that watches the videos we are releasing and knows the least about drifting. I prefer to just let the people decide!

Make sure you check out the longer edit on October 2nd.
BTG: Were there any sections of the Nordschleife  you couldn't link? Why?
VGJ: All of the massive straights were not linkable with any kind of angle without Manjis…. Dottinger Hohe, Antoniusbuche-Tiegarten, Flugplatz and Kesselchen included. I was not interested to Manji during a full attack like this so I just used those straights to enjoy some pure speed and sound!

I also had to be conservative at Quiddlebacher- because shhhhhhhhhh Quiet time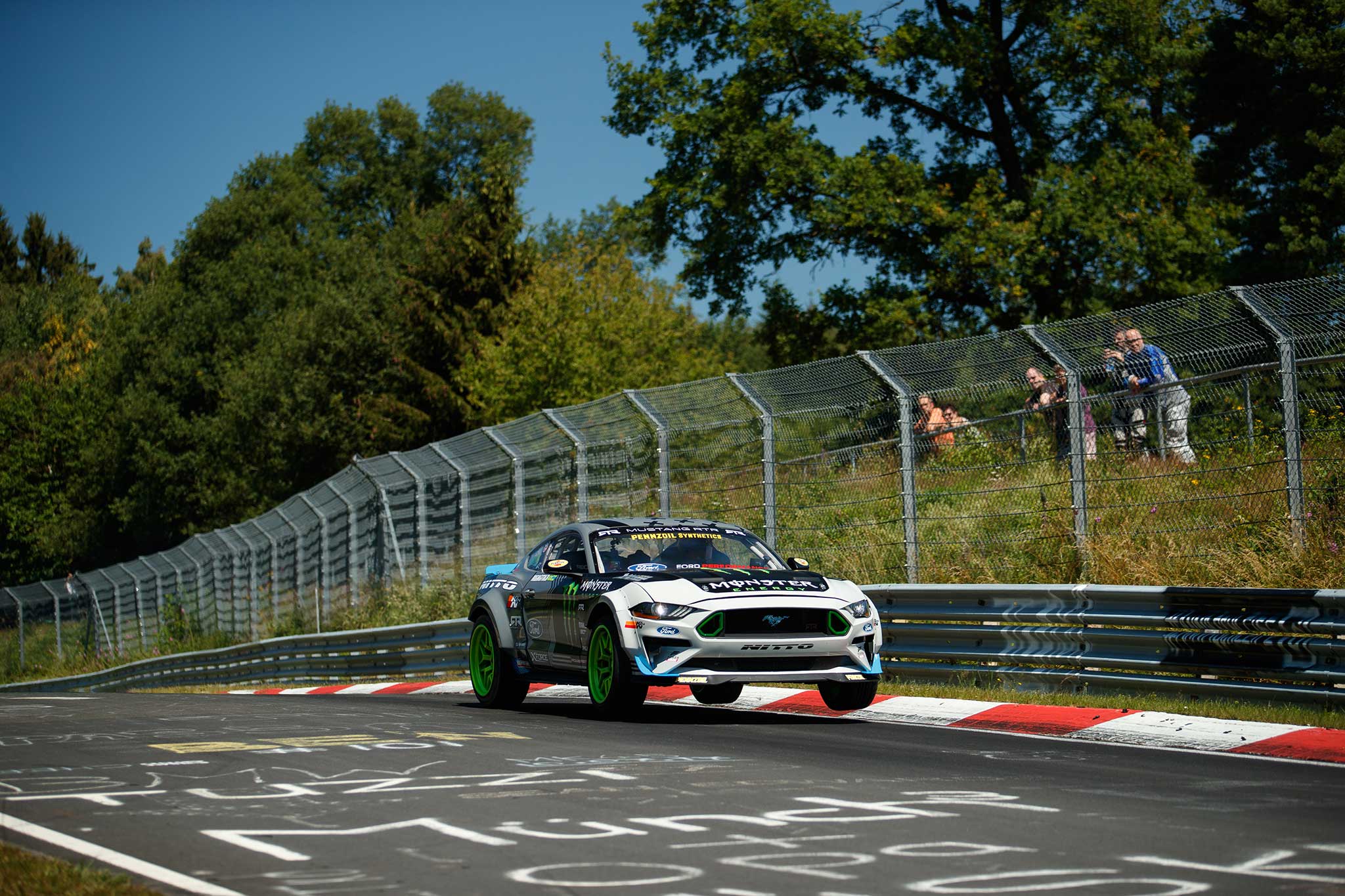 BTG: What was your scariest moment of the shoot? (Did you make any mistakes?)
VGJ: I made a few mistakes for sure, when we were doing our first complete chase car lap I spun in turn 1 going too hard. 🙂

The Jump at Pflantzgarten was one of the scariest things of the entire shoot. The speed that I was able build thru the down hill section prior to the jump was wild. Immediately after the landing the jump I had to flick a ton of angle into the car to make that super sharp turn surrounded by walls. If I did not have so much droop built into this Mustang I would have been close to 60cm off the ground. So much scary fun!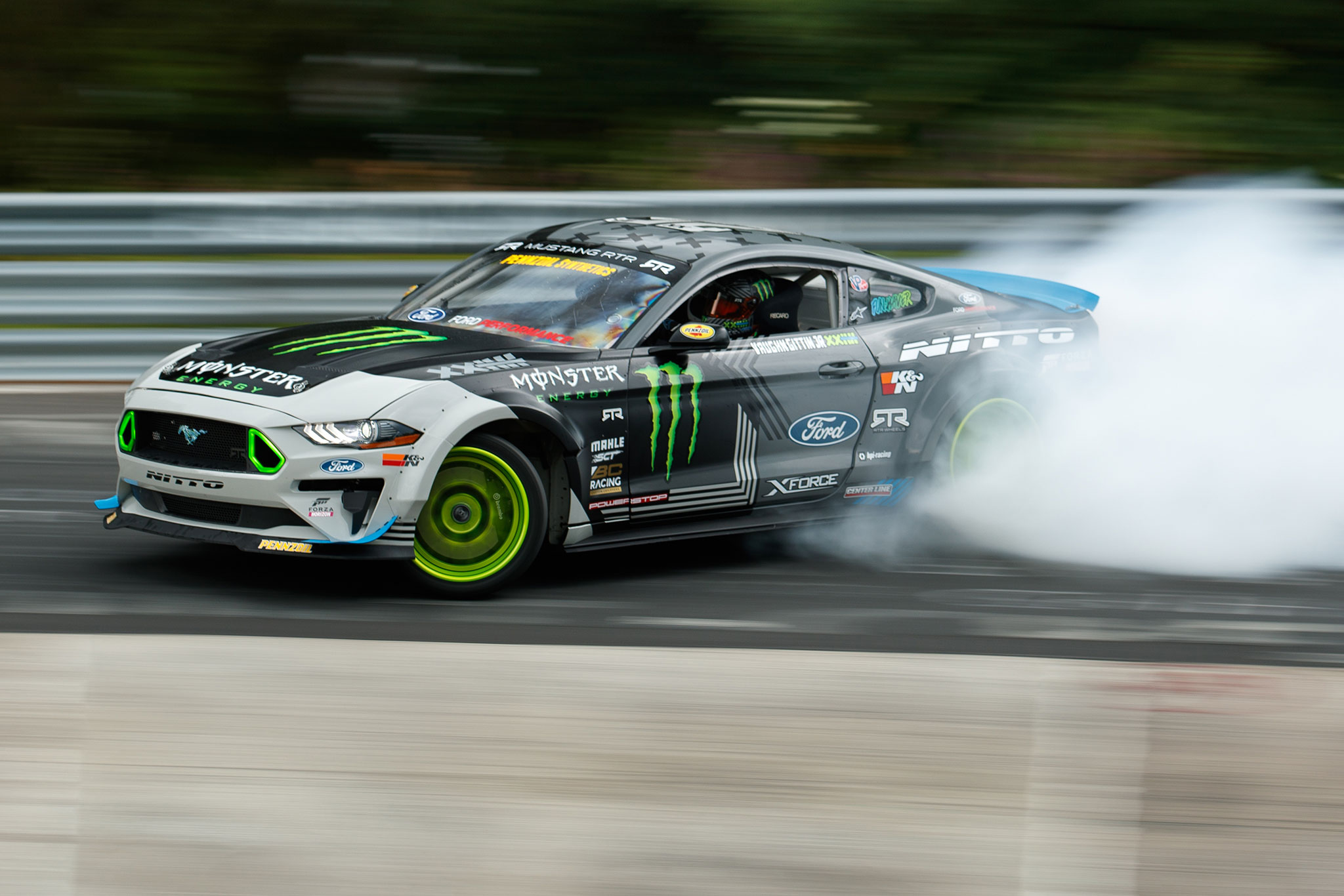 BTG: What was your favorite bit of driving in the whole shoot?
VGJ: It would be impossible to define that. This was the ultimate experience for me. Everything that I put myself through during the shoot was a new challenge and a new level of fun. When we stopped for the first tire change I was elated. I had to catch my breath, which is something I have never experienced behind the wheel since I was a rookie in Formula Drift.
BTG: Did you at any time doubt the outcome of your effort?
VGJ: I certainly had some doubt, I think I would be a fool not to. When I strapped up my suit on game day I experienced quite a few emotions including excitement, doubt and fear. I had to overcome them all and proud to say that I did and I am still hear to share the story!!
BTG: What's next?
VGJ: All I can say is MORE FUN, Stay tuned to see!!!!
Comments
comments