The adrenaline of the first race weekend is almost finished. After a frantic couple of months, we finally lined up on the grid and pushed our Milltek Sports Fiesta ST around the Nordschleife for four hours of VLN mayhem. And it was awesome. Here's how it went down:
Thursday, VLN-minus-2
The day before first practice, and Thomas from vollverklebt.de has been given the unenviable task of wrapping the Fiesta in only a few hours. Of course, what would take any amateur all day and all night only takes a couple of hours for Thomas. The car is wrapped, and utterly gorgeous.
Friday, VLN-minus-1
Although we tested the car at Spa Francorchamps, we didn't actually have the Nitrons fitted yet. So we fork out around €400 for 2-hours of practice on Friday night, while Manheller Racing spend all day building our pitbox 17 and getting ready. Come 4pm, we join the queue of around 190 cars and attempt to exit the pits. Then this happens only a few minutes later…
The redflags are out as I leave pitlane, we don't even get a single lap. The driver of the GT4 was OK, amazingly, but we were really not happy. At all.
In my one lap of the GP course, I also discover that our 'magic box' for disabling the ESP is actually killing the ABS and brake distribution. We spend most of the evening trying, and failing, to disable the Fiesta's stability control without losing the anti-lock braking system.
Saturday, VLN1 Practice
After yesterday's chilly dampness, Saturday's warmth has caused a problem. Fog. We eventually start the day an hour too late…
 It's immediately obvious we've chosen the wrong springs out of the selection supplied by Nitron. But it's not that important, as the ESP is holding the car back constantly. Whenever you apply steering and gas, the brakes begin to work and power is chopped. Even after the button has been held down for 5 seconds, and the dashboard displays "ESP Aus". Damn.
We use the session for suspension setup, with Luke, Kjetil and me all learning about the adjustability of our Nitron kit under the pressure of a race start only 90-minutes away… challenging, but fun.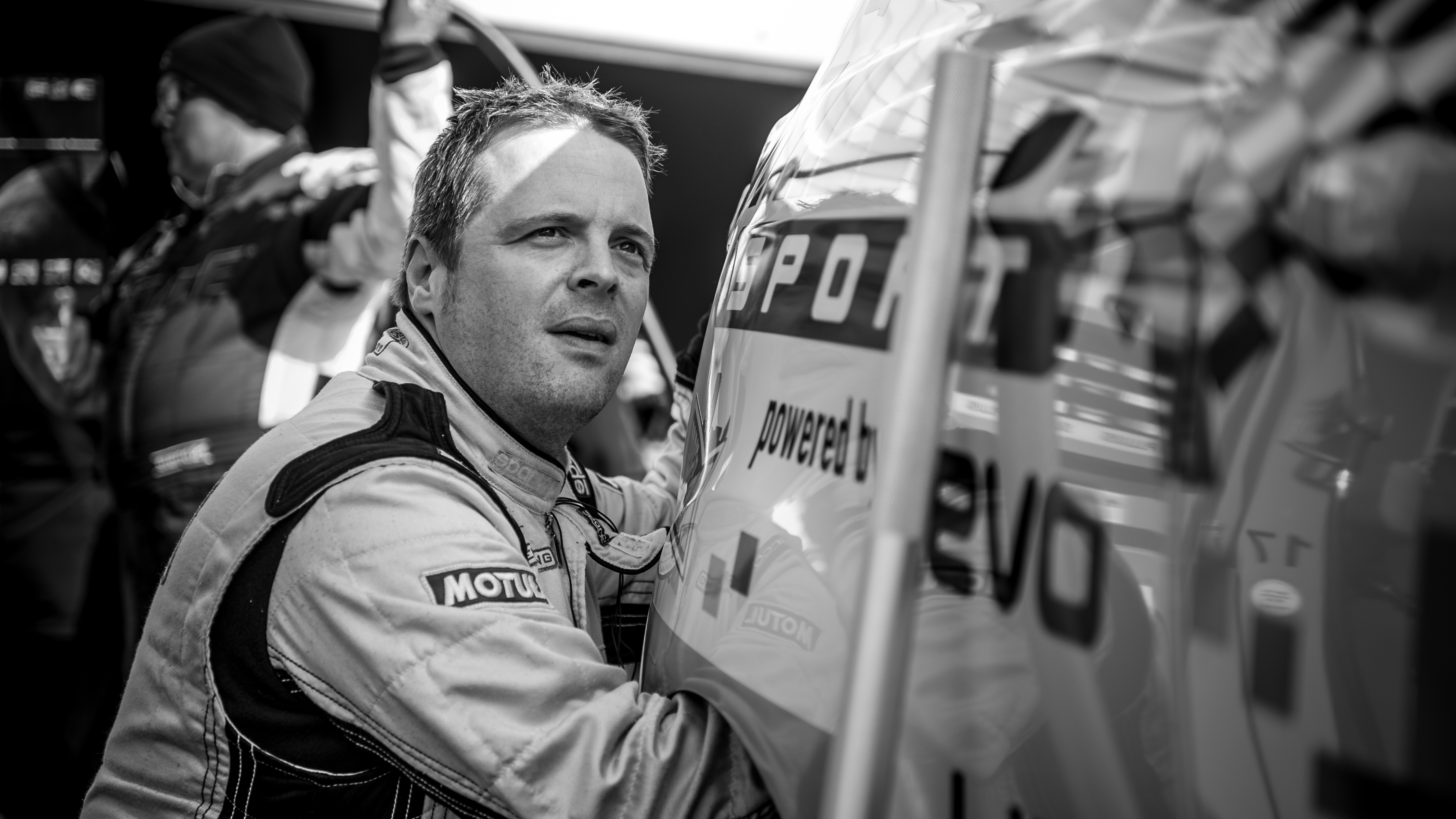 Saturday, VLN1 Race
Without a single 'clear' lap, we're one of many cars that qualify a couple of minutes off the pace. VLN has three starting groups, each with over 60 cars and only two minutes between them. I'm going to make the start, and you can probably see a little of my tension here…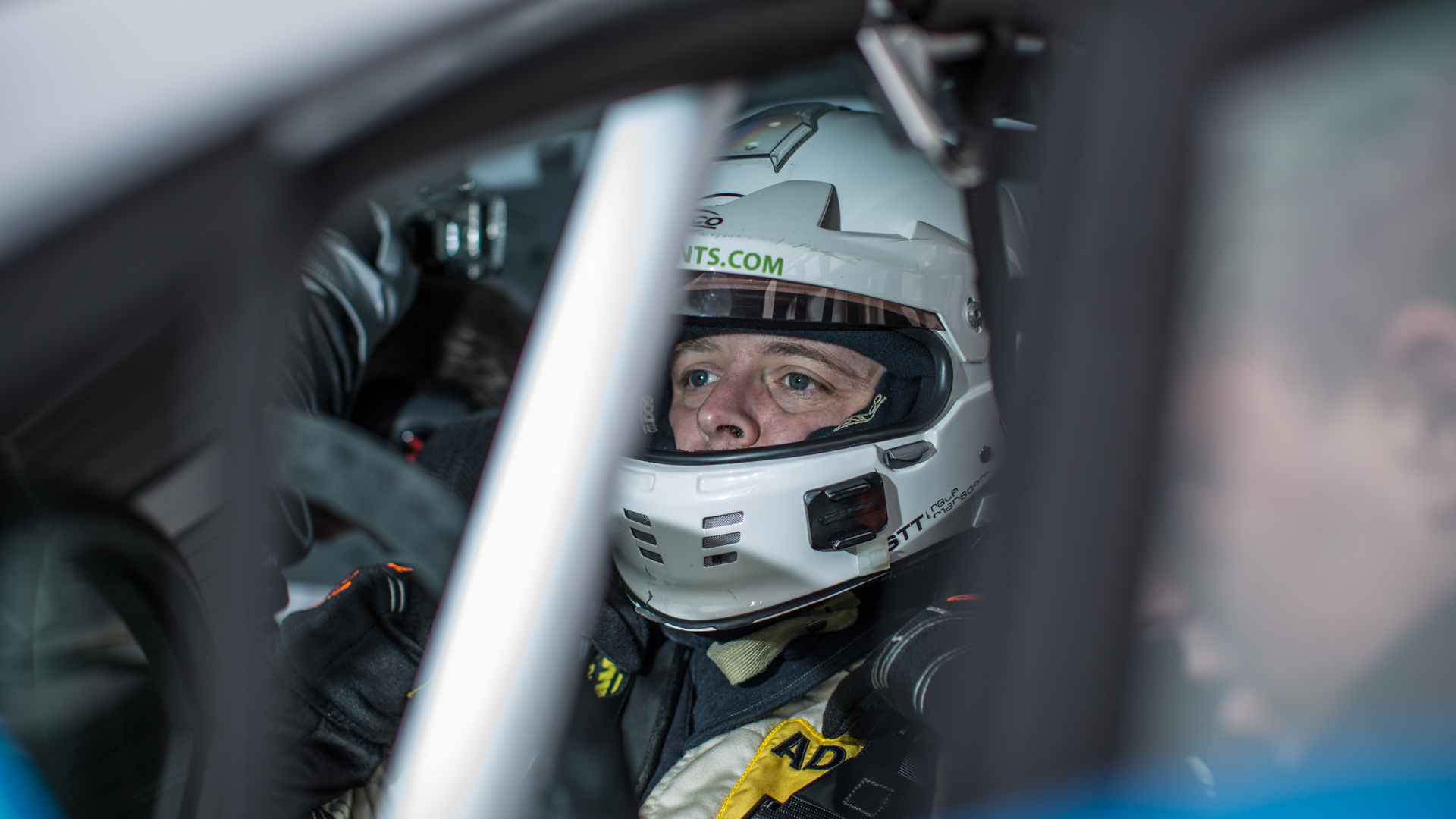 This is where we start the formation lap… the very back of group 3!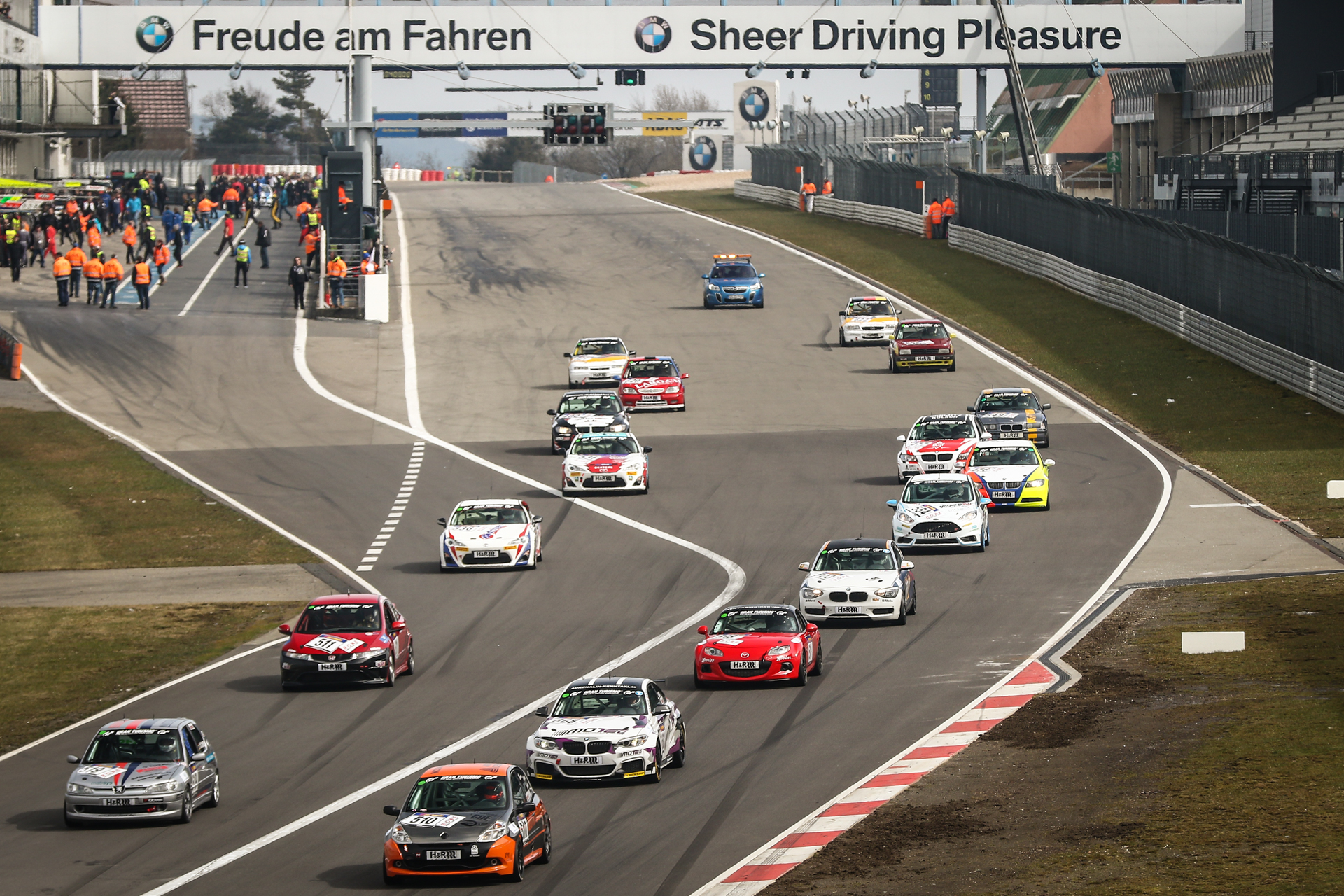 The start is eventful, and the Fiesta monsters its way forward through the pack using its (relatively) plentiful torque to push past cars that should be a lot faster.
After being held up a little on lap 1, I then spend a lap closing to the gap to the next bubble of cars. Where I find my once-student Marc Gassner, driving my old car, the Rent4Ring Racing MX-5!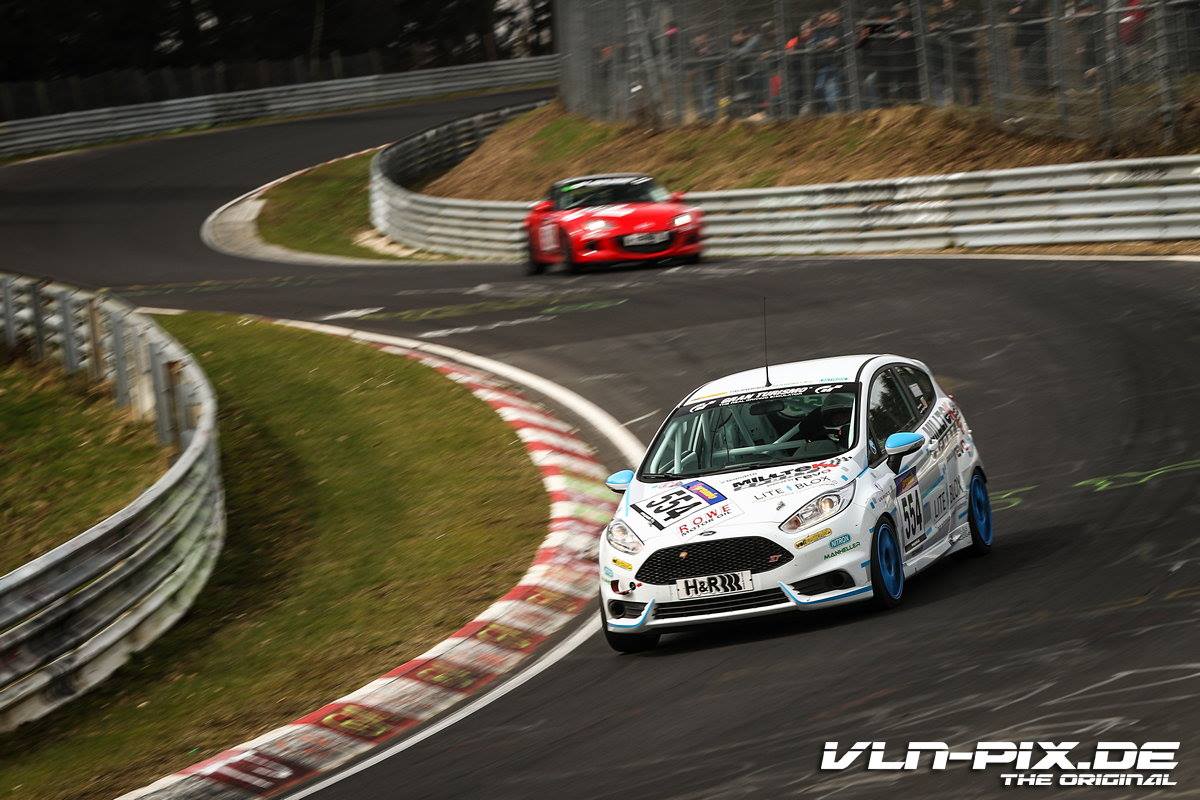 After muscling my way past with the Fiesta's power, Marc uses the MX-5's handling and grip to stick to my bumper for the next few laps. It's like the Mazda is being towed by an invisible bungee cord. Uphill the cord stretches, downhill the cord pulls him back again. We're both running identical laptimes, in massively different cars.
Then the first disaster strikes…
"CRASH! CRASH! CRASH!"
…reads the dashboard display. But I've not actually crashed, it's just the ESP system (which we're still fighting against) thinking we have. The fuel pump turns off automatically, the blinkers are flashing like crazy. In a frantic blurring of hands, I turn off the main switch, the key, and then turn them back on. It's not enough, the car is still dead. CRASH reads the display.
Next time I count to ten while it's all off, and the little Ford starts again without hesitation. Not even a guilty cough, even though we're now 30 seconds behind our original position. After running those hot laps with Marc, I'm a bit annoyed to play catch up, but I get my head down and crack on again. I'm alone again for a while, while other cars pit, the Fiesta's 80-ltr tank is only a little over half-empty!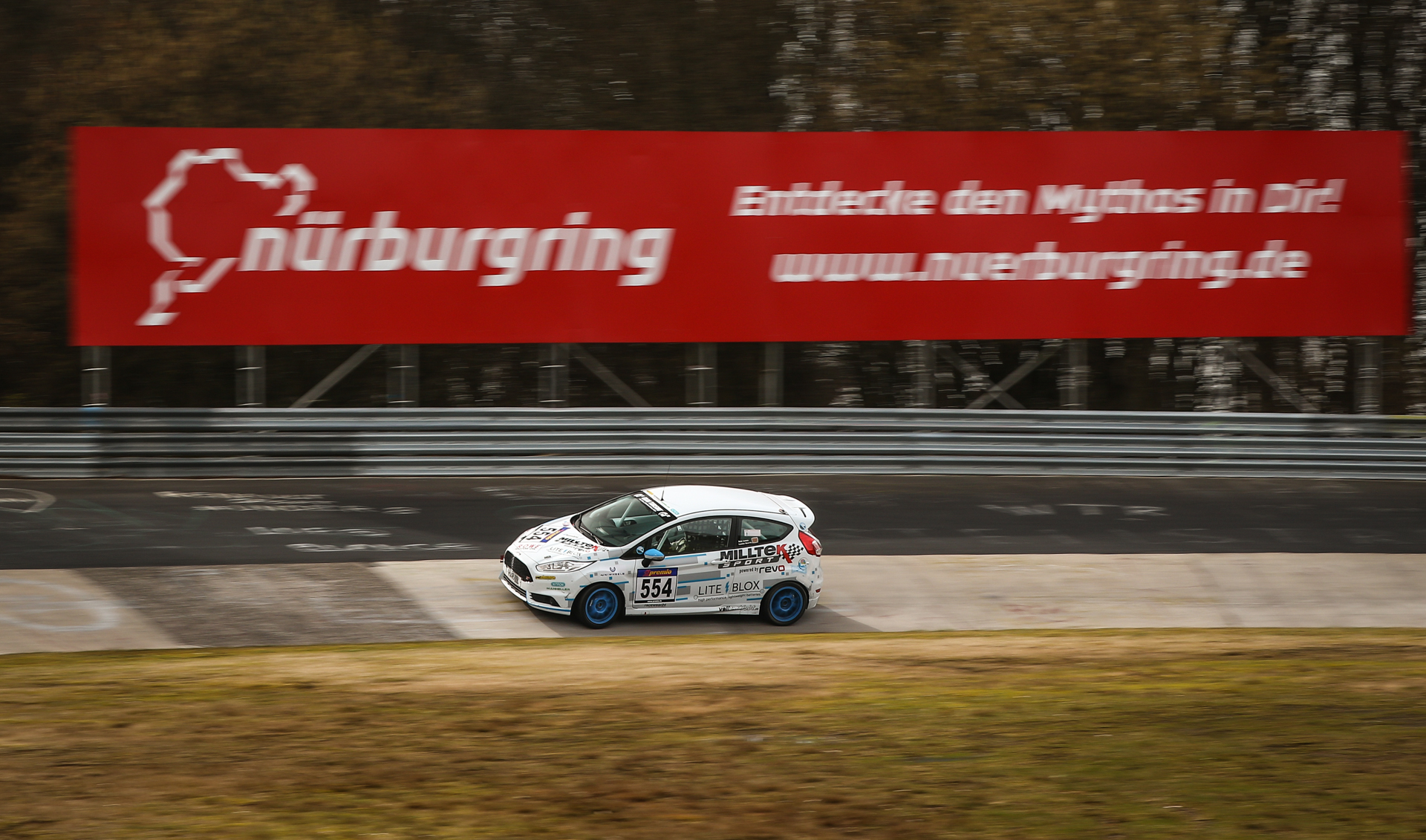 Then, disaster happens AGAIN, this time in the form of the TMG United GT86 and, to be frank, its angry-at-being-overtaken-by-a-Fiesta driver Christian Scherer. My version is that he overtook me leaving a double yellow code 60, and I overtook him back into Karussell with a classic pass out of Steilstrecke and into Karussell…
But the Fiesta, with its twitching ESP, is not so fast in the bumpy banking of the Karussell. Now Christian is obviously pissed that I've not only 1) overtaken him with the turbo Fiesta, but now 2) slowed him down.
His 'solution' to these pent-up feelings of inadequacy? He starts tapping my bumper in a classic loss of temper. First he taps my bumper in the middle of the karussell, then again, but finally, as we exit this "accident" happens…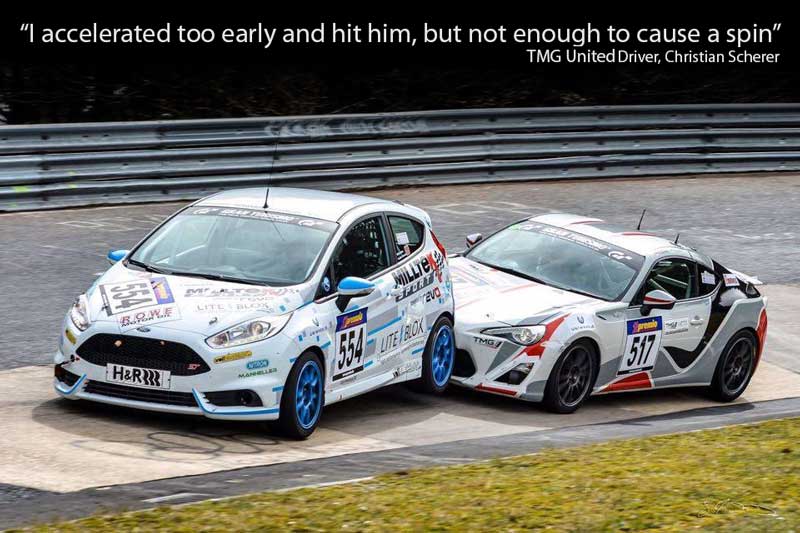 Christian later told his team boss, when pushed into a statement by me sharing this photo on facebook (which the boss demanded I remove "immediately"), that he "didn't hit me hard enough to cause a spin", and that after overtaking me safely in the exit of the karussel (which you can see him doing above in the photo by Stefan Drees) he even looked in his mirror and saw me 'driving normally'.
"Based on my drivers statement, it is disputed that the incident caused a spin and subsequent contact with a barrier. In any case, we are all aware of the risks driving in motorsport."

Martin J. Duke, Team Manager, TMG United Racing, C/O Toyota Motorsport GmbH
That statement is basically, in my opinion, a massive "F*ck off, we'll do what we want."
Nice work, don't you think?
Needless to say; I DID actually find myself in the barrier on the exit of Karussell. Yellow flags, an official bulletin from race control, now with two damaged wheels, some superficial scratches and a properly skewed front-left wheel. Back to the pits for me after only 8 laps (I wanted to try for 10), and time for Luke to drive the now limping Ford…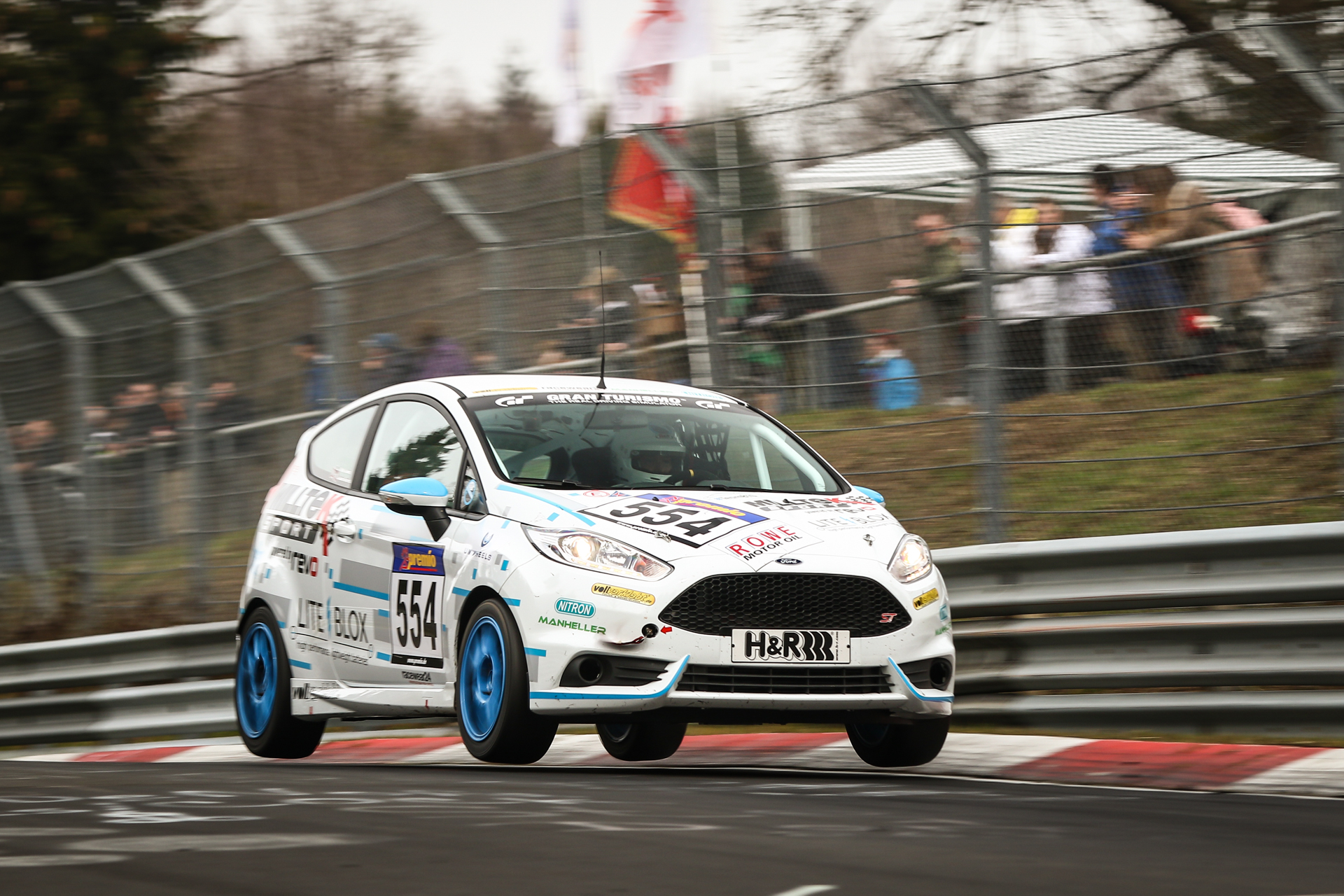 While I do a live broadcast, and bite my tongue about silly Toyota drivers, it turns out that Luke's literally flying, and within a few laps he nails a (fractionally slower than mine) 10m11s too.
We're hoping to get 9 or even 10 laps to a tank. Maybe 11. But it turns out we didn't quite fill the tank in our hurried pitstop. Damn, Luke's in after only 9 laps, and hands me the wobbly and broken car to bring over the line…
Lessons learnt:
TMG United think bumping is racing
The fuel filler needs looking at it
We're going to increase the spring rate massively on the rear
We can't wait to try the Wavetrac LSD
The Fiesta is a lot faster than we thought, but still has more to come.
Standard ESP is evil when left in your racing car!
We have the best sponsors, supporters and technical partners we could ever hope for!
Targets for VLN 2016:
More trophies
Top-100 placing overall
Maybe a top 50% overall?
Under-10 (VLN laptime, that's like 7m45s BTG in a Fiesta!)
Photos by: DSpicture, VLN-Pix.de and BTG.

Comments
comments