Ten years ago BMW did something crazy. The Bavarian manufacturer broke with years of tradition and began to ditch its mid-range of naturally-aspirated straight-six motors in favour of smaller four-cylinder turbos.
BMW had already started to mess with the connection between model names and engine capacity* in the mid-life-update of the E90, as the 325i, 328i and 330i all got either N52 or N53 3.0-litre six-cylinder engines. But when the F20 and F30 (1-series and 3-series) arrived, they all had familiar names and power outputs, but mostly they had 4-cylinder engines.
At the time, I was kinda disgusted. Ever since the E30 325i and its famous M20 engine, the mid-range six-cylinder executive cars from BMW have made excellent racecars. Hell, here at the Nürburgring, the VLN class V4 (up to 2500cc production cars) has kept race-drivers and TF pilots in affordable-but-fun RWD saloons for nearly 30 years.
At any trackday in the world you could expect to see an E36 or E90 325i or 328i right now. Rear-wheel-drive, no M-tax, decent running costs and lots of fun. On a busy Sunday here at the 'Ring, you might be able to stand next to the track for a few minutes WITHOUT seeing one ripping through Brünnchen.
But what about those F20s and F30s? At Rent4Ring, we jumped into the F-series all the way back in 2013, renting BMWs for the Nürburgring, and racing our BMW 125s in VLN: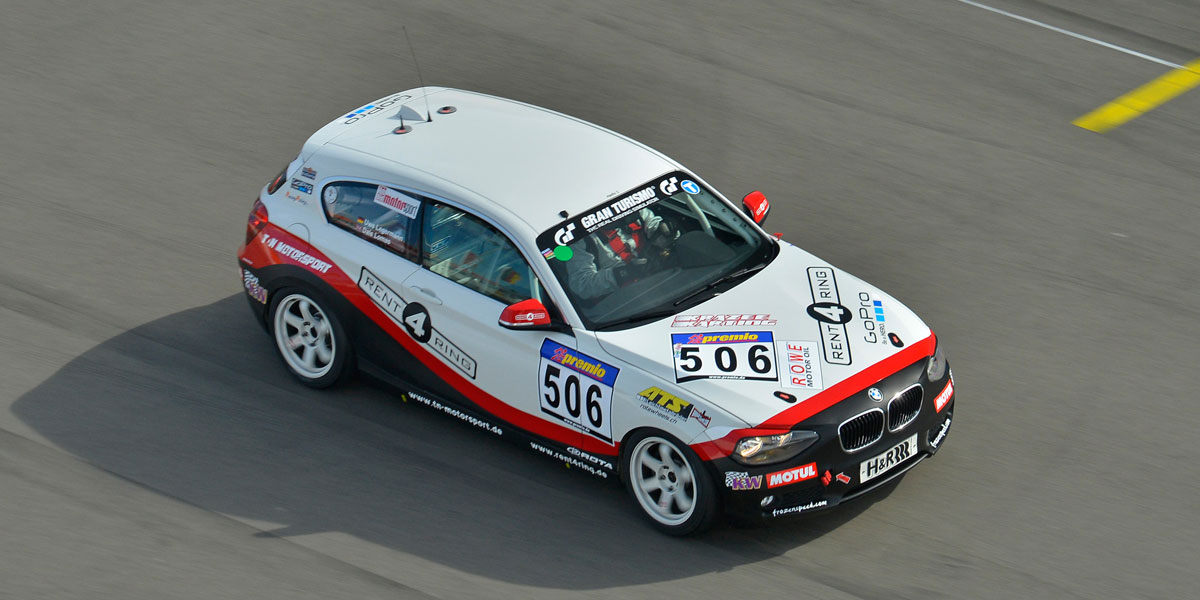 While the first few cars off the production line were a little shaky, (some of the N20s upto 2014 have a nasty habit of eating their own rod bearings around 20,000km when used on track) the advantages of the lighter, torquier, four-cylinder motor are hard to ignore when you build a #ringtool.
There are two cylinders less hanging over the front axle, and the back cylinders still fit snug against the firewall, the 4-cylinder 1-series in particular makes for an incredibly balanced racecar (the F30 in full VLN trim still needs persuasion to escape the understeer!). Chassis tuning on the E90 and E87s was 99% about containing and controlling the understeer; but on the F21 1-series you can easily increase the grip at both ends without compromising balance as much.
With some simple mods, they can be turned into real track weapons! Check out the latest build from Rent4Ring below. This 125i is remapped to over 280hp, runs on 17×8 BBS wheels, sticky Direzzas, KW clubsport suspension and even a Drexler limited-slip-differential:
All of which leaves me wondering why I don't see more F20 and F21 #ringtools being built? Is it the lack of factory horsepower when compared to other 2.0-litre turbos? 280hp is the starting point for most VAGs… Or are they over-shadowed by their larger, heavier and more powerful 6-cylinder cousins?
The 135i and 140i are both mega things, and Laptime Performance built my favourite 140i ever. But they're heavy, and they need big brakes and lots of money to keep them running at fast laptimes.
A good #ringtool, in my opinion, strikes a balance between sub-8 laptimes and running costs, (just like the old-school E36 328i) which I believe an F21 125i does.
What do you think? Will we see more F21 #ringtools as the prices drop? In Germany you can find a decent F21 125i from as little as €10k. That's definitely Dedicated Ring Tool project-car territory, isn't it?
 *Again. Who remembers the E36 323 with a 2.5-litre?
Comments
comments