When I ask you to name the world's greatest racers, you're spoiled for choice. So many legends, heroes and great human beings to choose from.
But, here's mine: John Surtees. And we need to NAME a corner of the Nordschleife in honour of him. And I need YOUR HELP.
(but first)
The mainstream media know Surtees as the only man to win the premiere level World Championships on 2 and 4 wheels. But the story is deeper than that.
Like many racers of the era, he was a gent, and a grafter. He worked hard and he got results. Un-fricking-believable results.
On two wheels he fought his way to the top, and as an Englishman found himself on the factory MV Agustas. He would compete entire championships in multiple classes. More often than not WINNING several races per day. How else do you get to be World Champion in BOTH the 350cc and 500cc classes for three years on the trot?
Then he moved to four wheels, and he won and won and won. And he made the Nordschleife his home. 1000km race? Won it. Grand Prix? That too. Fastest laps, pole positions and race wins were just 'par for the course' for Surtees at the Green Hell. And in 1964 he was world champion behind the wheel of his Ferrari.
HERE IS MY PLAN TO HONOUR THIS LEGEND: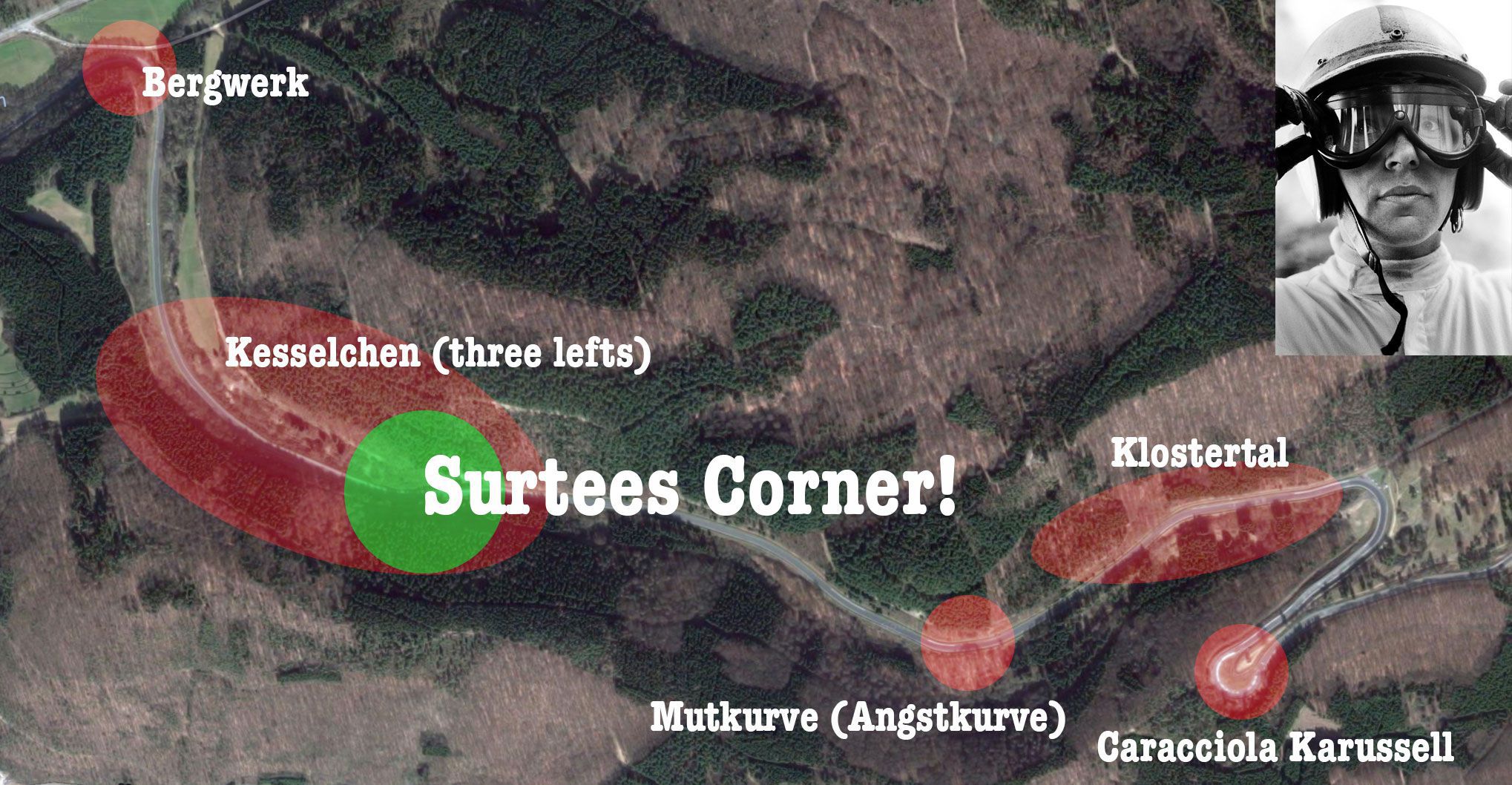 Yes, let's name a corner after him. As a total RingMeister on two wheels and four, this is the least he deserves.
Even better, we're not 'renaming' a corner… we're taking a corner with no name and GIVING it to John Surtees!
Sure the section is called Kesselchen, I'm not taking that away. But the real nasty corner at the end; the kink over the hill where many cars, and a few drivers, have come to an abrupt end.
Will you join me? Will the Nürburgring owners consider it?
Comments
comments