After the heart-lifting golden sunshine of the Nürburgring's first weekend of opening, it should be no surprise that the second week was completely the opposite.
Sure enough, moody dark clouds, full of morale-sapping drizzle, hung low over the Eifel mountains on Saturday as over 100 VLN racing cars took to the Nordschleife.
And #TeamBTG was there with our new GT86 Cup by Toyota Motorsports GmbH.
FRIDAY – Pick-up the new car!
We actually only picked up the car on the Friday before the test. Sure, we've seen it plenty of times, and even put the stickers on. But now we could drive it! Steve from Milltek signed for the delivery and we loaded it into our freshly-wrapped trailer and headed directly to Mendig airfield for some vital 'break-in' miles. I'd show you some photos… but it's a private test facility and had some semi-secret industry stuff there. I kept my camera in my pocket!Thanks to Roland at Tyre Trade Centre Nürburgring, we already had some street tyres for general testing/dyno duty. After an hour of running, we headed 30 minutes up the road to the Nürburgring GP circuit.
There's a hell of a lot of paperwork involved in any kind of motorsports, but VLN really is something else. It's no exaggeration to say that we spent most of the day queuing, signing, and having things inspected. (And we still have another half-day ahead of us this coming Friday for #VLN1!)
SATURDAY: First test on the Nürburgring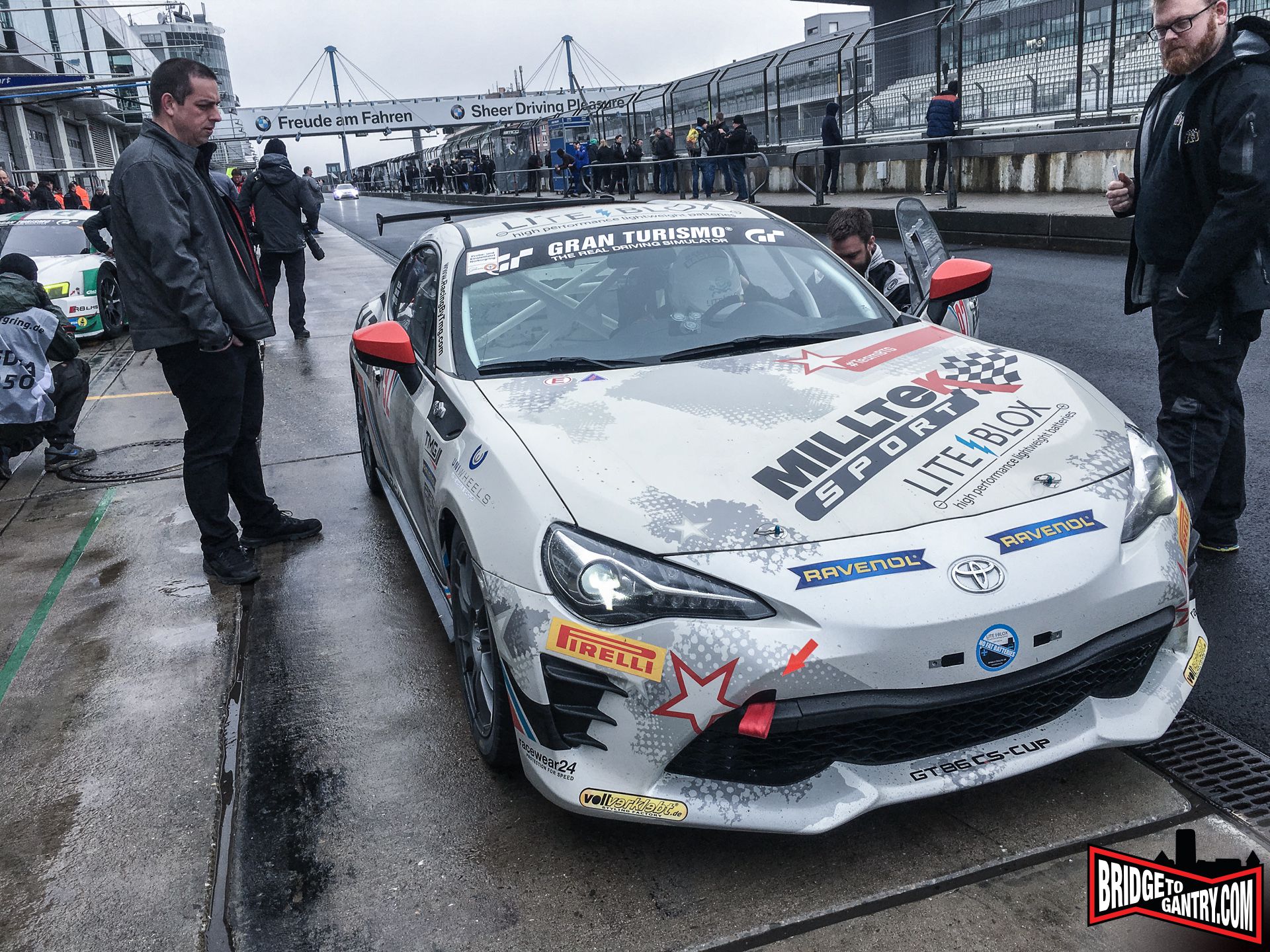 Having added only another 100km to the clock at Mendig, we hit the track as soon as possible on Saturday morning. Sure, the weather was hideous, but we didn't care.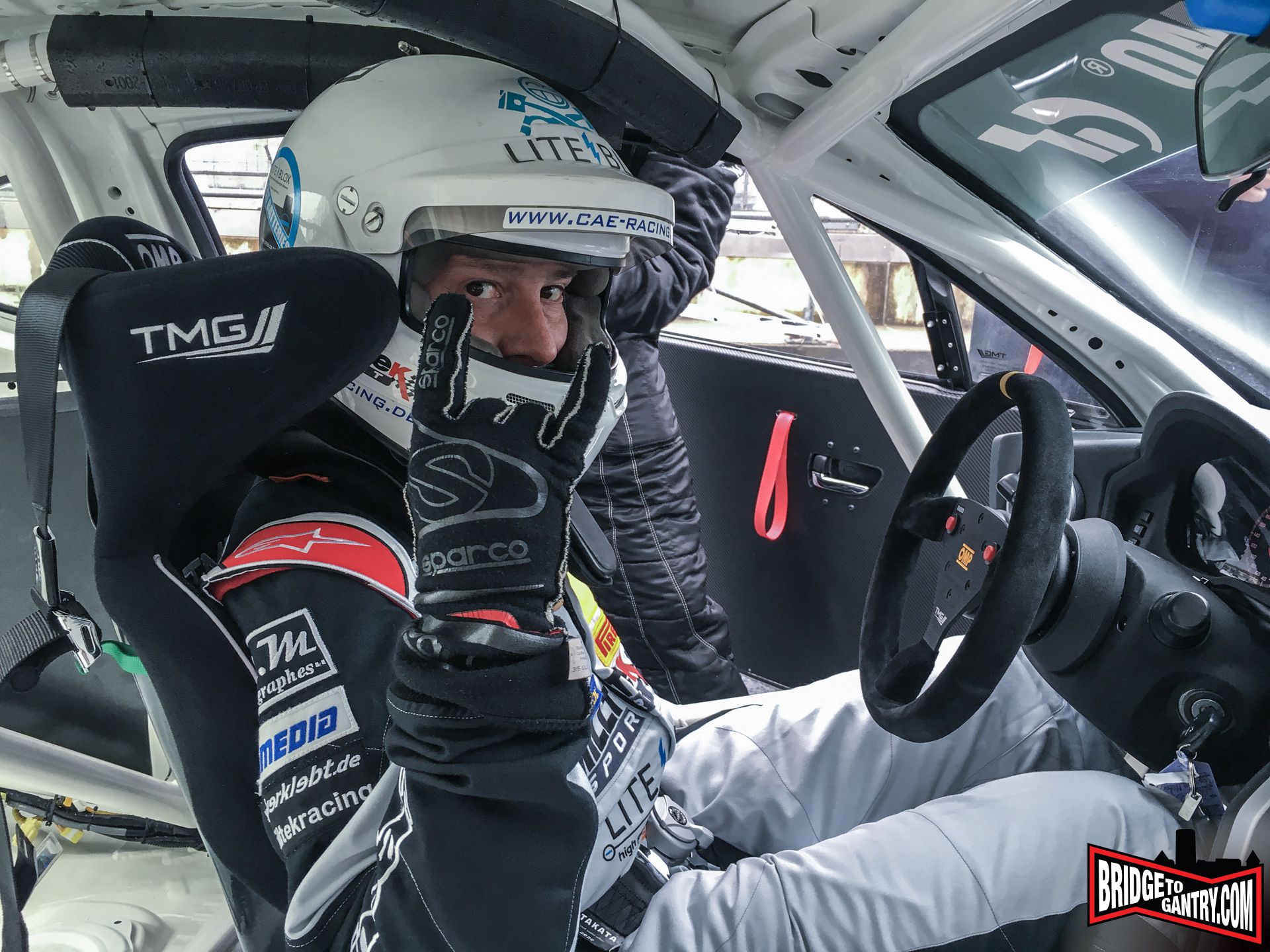 Brand new wets on our still-grey wheels, Luke and I took turns lapping the short Nürburgring GP circuit. We took the opportunity to work through TMG's own recommended settings for the Bilstein 2-way adjustable dampers, the adjustable anti-roll bars, and the big carbon-fibre wing.
By lunchtime we were feeling confident enough to take the car out on the Nordschleife and open up her up a little bit. It was obvious that there'd already been several crashes and big fails on the slippery northern loop. But just after lunch, a dry line formed and we could deploy the next stage in testing…
… brand new Pirelli Slicks on the first set of red-painted OZ wheels! Most of the track had a dry line at least one-wheel wide, while other parts were dry nearly all the way across.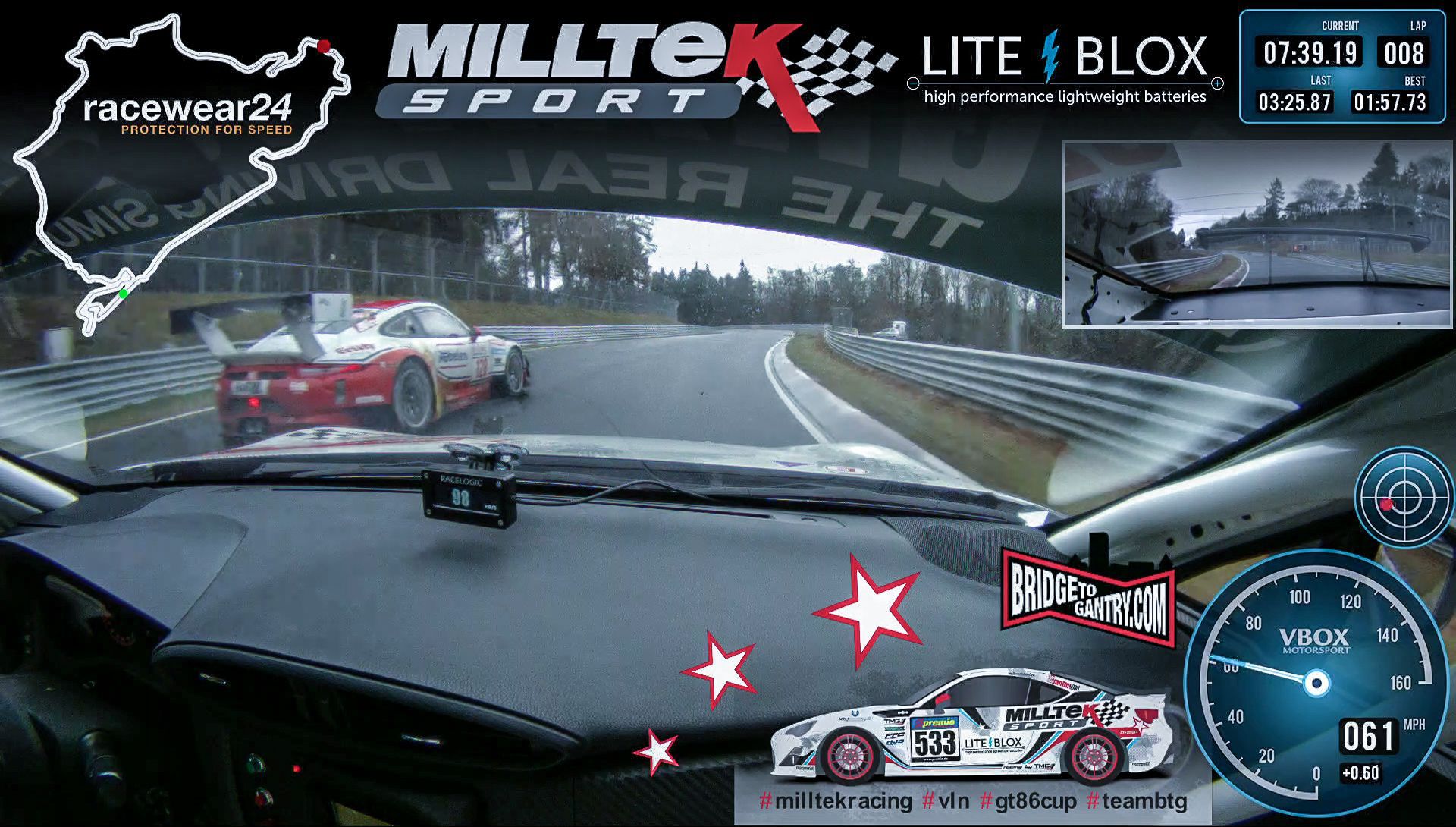 I'd show you a video, but I'm still waiting for permission from the Nürburgring to show it. Reality bites. Luckily I can show you a shot of the outside…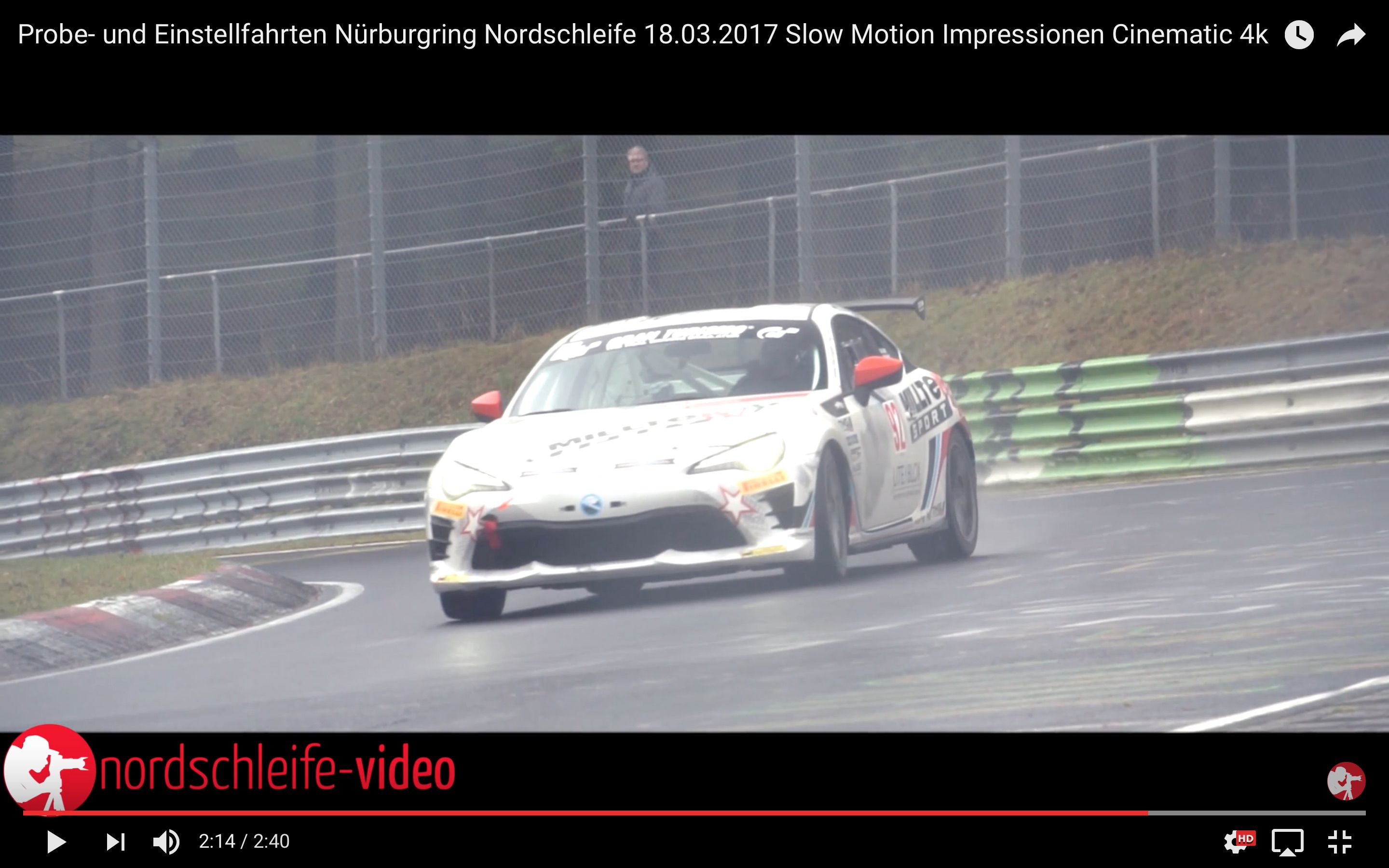 Yep, there was still some water down all the way from Hohe Acht to Bellof-S which made it 'interesting'. But overall the fastest laps of the day came from using the slicks. I hope I can share it with you later this week!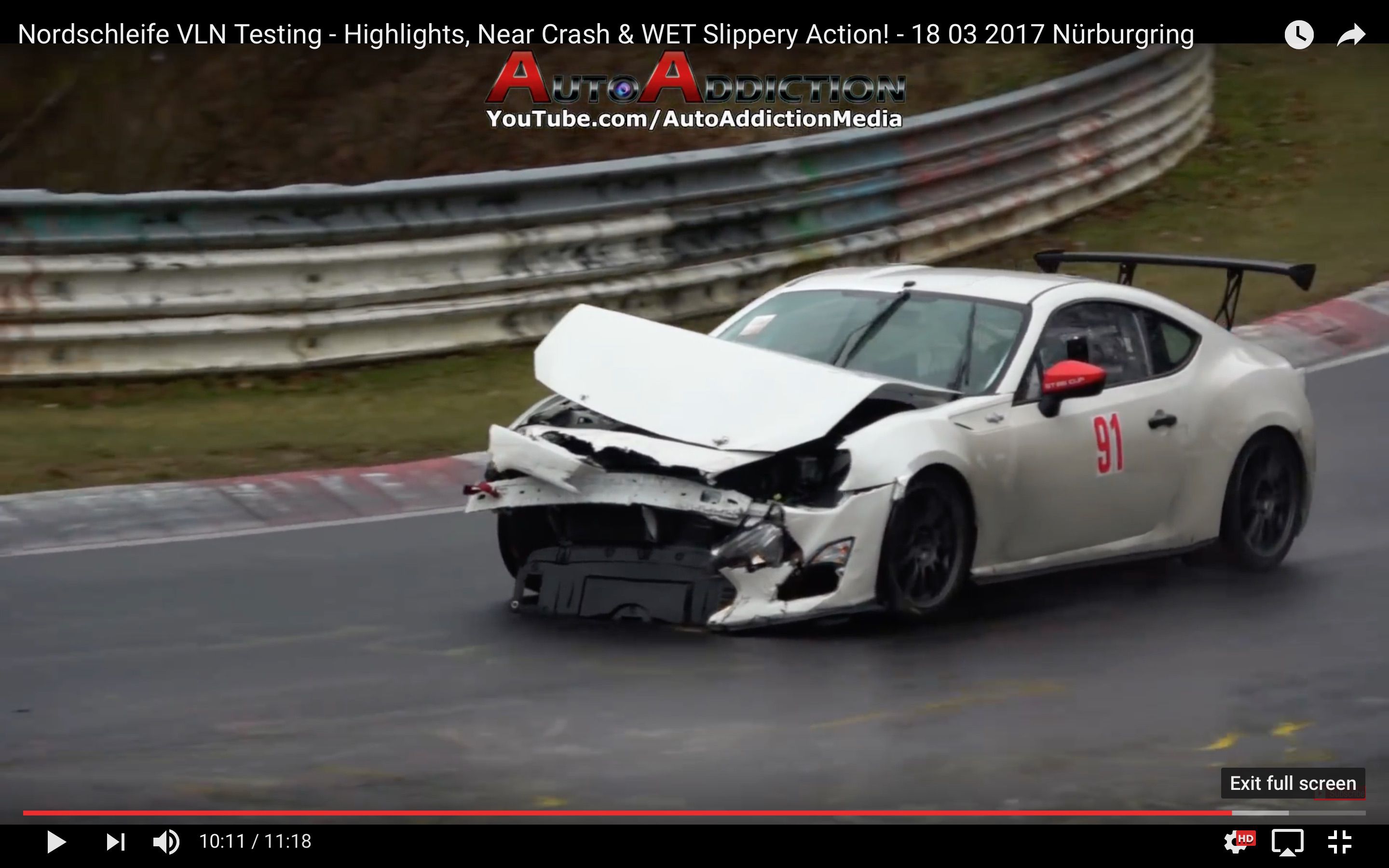 In total there were four of an expected TEN GT86 Cup cars testing on Saturday. But not everybody was as lucky as we were… that's one of the new cars at Adrenaline. OK, it looks bad, but I'd put 50¢ on the guys having the car as good as new by next weekend.
VLN1 (with livestream and English-speaking commentary) coming soon…
Comments
comments