As reported on before, Milltek Sport haven't just supplied new, improved exhaust systems to every GT86 Cup team, they've also bought a new 2017 spec car and allowed #TeamBTG to race it! With massive support from LiteBlox, and help from RaceWear24 and Vollverklebt (and many more friends) we're back for another season of VLN…
Instead of arriving and driving somebody else's car, that means we had to get the 'ready to race' GT86 a bit more ready. So deep inside the Top Secret #TeamBTG underground bunker, Friday morning was spent wiring in the GPS Auge, laptime transponder, full digital communications set and a new Racelogic HD2 Video Vbox. With CAN bus. Well actually, Steve the Milltek MD did most of that stuff. Because it involved wires and hot tools and sharp things.
By mid-afternoon we had delivered our new-for-2017 GT86 Cup to the pits for a full technical inspection. And on the second time around we had the paperwork all signed in the correct order (mental note; sign in to the event first, THEN go to technical inspection!)

Sure, we'd never driven it in the dry before (only the wet) and neither had we driven it with the new torque-boosting Milltek headers and single-exit exhaust. They'd only been fitted and the ECU remapped the day before. But we weren't going to make the testing session without rushing and taking chances. So we relaxed and spent time making preparations for race day. A damn good decision, as it turned out.

Because this was going to be one busy race…
RACE DAY, QUALIFYING…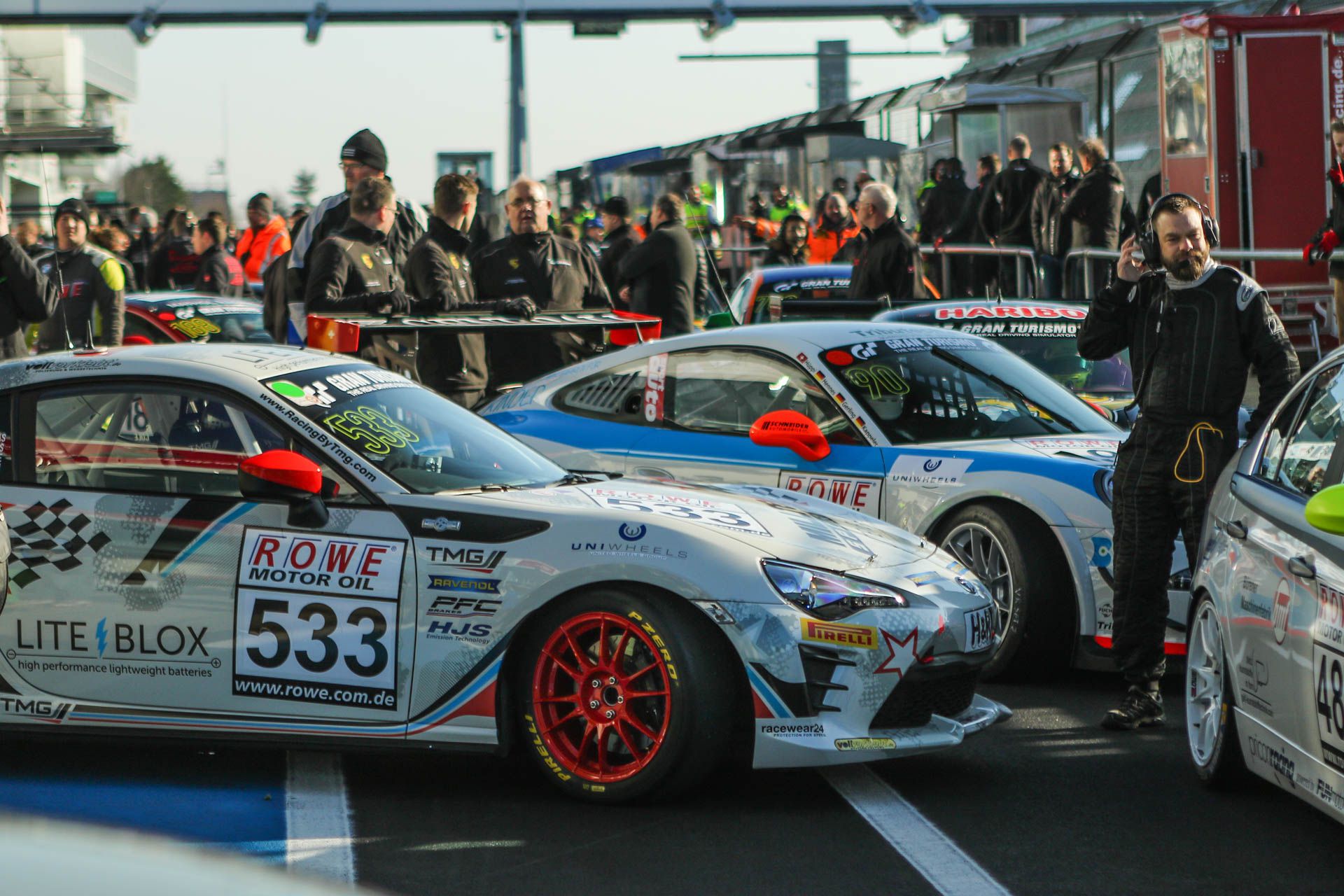 190 cars ready for early morning practice. And 9 GT86 Cups in our class, CUP4, the GT86 Cup by TMG. How many drivers? Oh, only about 470 all desperate to do a qualifying lap. Nervous much?
Yeah, plenty. But internalising emotions into a tight dark ball and swallowing it down into an impossible to open box is just one of the skill sets of any racing driver.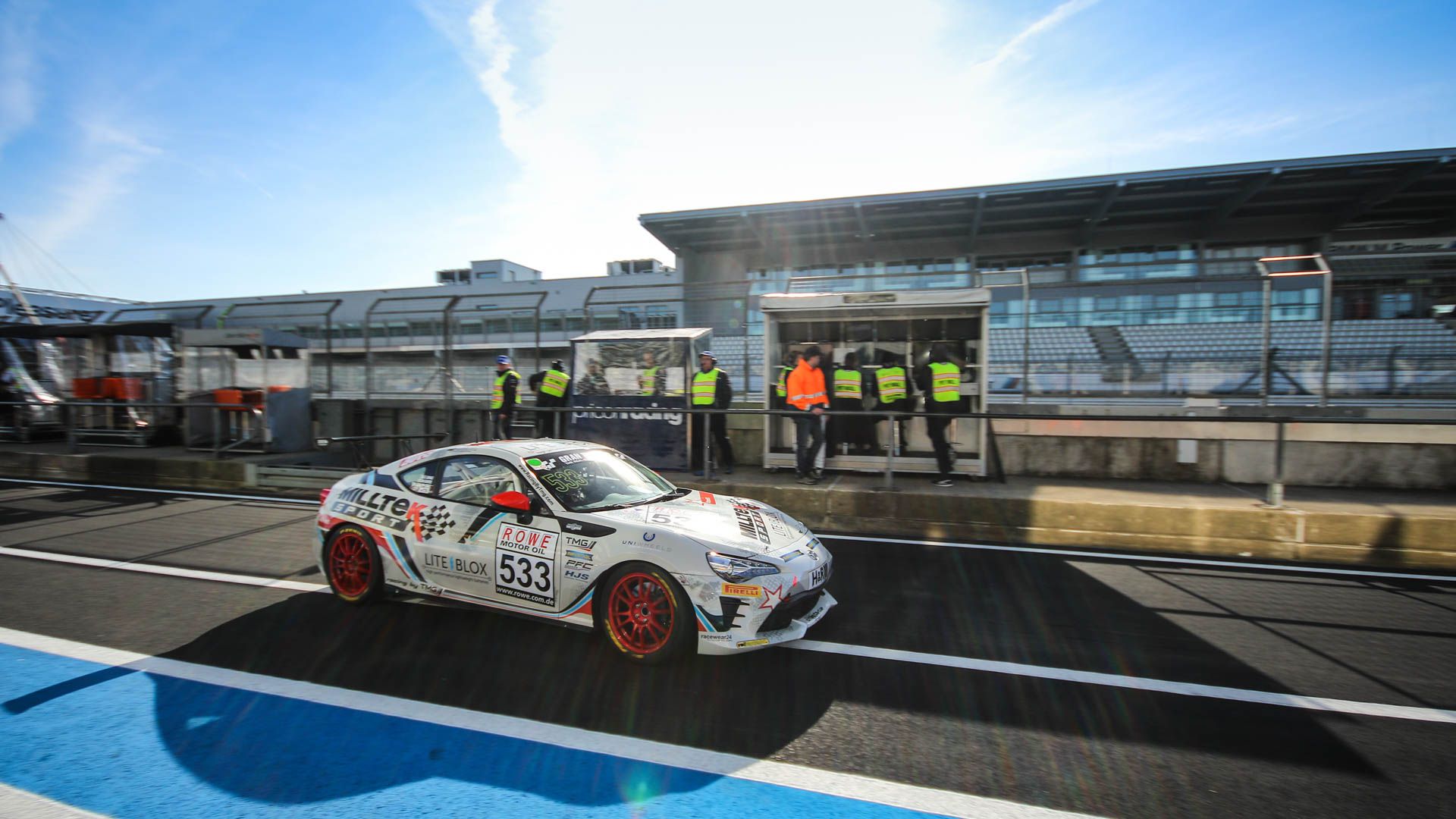 For my second ever lap driving the car in dry conditions, I'm happy enough to qualify us third out of nine, even with some hold-ups. Luke would have gone even faster, but suffered a slower start and even more hold ups.
Luke's making the start, there's a SNAFU upstairs and somehow we're lumped in with start group 3. No big deal. But it's going to be a tense first lap…
And this is what it looked like from inside the car…
With the pit empty, all I can do is watch the livefeed and live timing. And hope Luke can find the gaps while avoiding the crashes.
Sure enough, the first few laps are a real bump'n'grind. Incidents everywhere and in every class, some major, many more minor…
Luke's fighting for our third place, when this happens….
My stint arrives, I'm not actually that nervous. I'm pumped. Luke's done such an ace job in some tough traffic, and I'm almost certain the race will have calmed down a lot by now.
Erm, how wrong I was!
It's hard work with over 30 GT3s fighting hard, 22 M235is and many more Porsches and TCR cars. But it's still fun.
We get a couple of laps in Luke's stint that are clear:
The TMG Cup keeps costs down by running a stock 50ltr tank and mandating a maximum 6-lap stint, which means you get a minimum of THREE driver stints in a four hour race. With 23-24 laps as our goal, it's clear we'll have 4 full stints and 3 pit stops.
I won't try and describe four hours of hard racing, sweating, worrying, revelling and hoping for the best. But as we move from 3rd to 2nd on my pitstop swap with Luke, I can barely believe it.
When I step into the car for the final stint, the blue skies are turning golden and we're up to first. The Americans in 2nd place are pushing hard, and after electing to run the whole race on one set of Pirellis, it's the front left tyre that's screaming "ENOUGH". It feels like I've got oil on the shoulder of it, a sure sign I need to slow down. But with 2 laps to go and a 1min30 gap, there's no real worries. Just plenty of imagined ones… it's a tense few minutes but eventually, I get to do my favourite flyby under the chequered flag!
The first race of a new championship, a brand new car with only a scant few kms on the clock and we've only just gone and won?! Even better, JF and his American buddies have stolen the points for 2nd place in the championship and took them back to America!
Awesome VLN trophy, check. Even more awesome trophy for the GT86 Cup by sponsors BRM? Check!
Undamaged GT86 in the parc ferme? Oh yes. CHECK.
See you at VLN2 in only 2 weeks!

Photos by 1vier.com, vln-pix.de and evgeniax.com
Comments
comments