There was no small amount of pressure as we prepped the Milltek Sport GT86 for our second VLN race of the year. Our convincing victory at VLN1 was something we were keen to repeat, but it was going to be tough.
Apart from some minor sticker repairs, and the whimsical addition of yellow tint to the headlights (We believed it was 100% legal in the 2017 regs, as we searched the German and English versions several times) , our car remained largely unchanged for the second race. Despite some other cars in the cup being lower by up to 20mm, we kept the setup from VLN1. And that setup, it's worth noting, was pretty much how the car arrived from Toyota Motorsports GmbH.
So we tweaked it, (just a little bit, not saying what) and hit the track on Friday practice just to confirm that the car still worked. It did.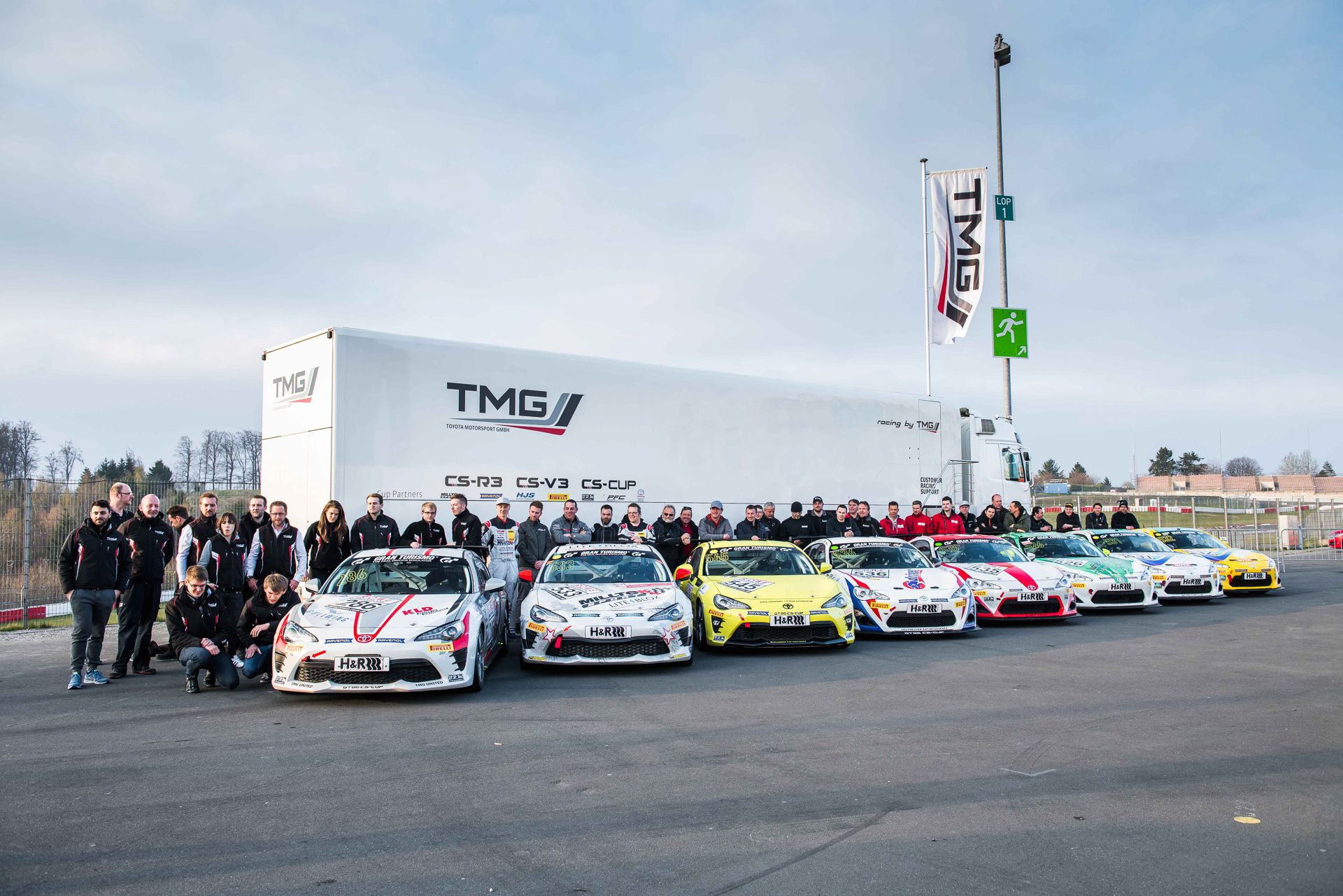 Two cars couldn't make the team shoot on Friday night, but I think you get the idea. You'll notice by now that the yellow headlight film was removed again. This was after 10 minutes of checking the VLN regs with the chief scrutineer, who eventually resorted to telling us to remove it because the N24 rulebook said it wasn't allowed. Oh well.
Nine cars in one class make for a close fight on the Nürburgring. Photo shoot done,  the Gods of Media and PR momentarily sated, we #PUSHPUSHPUSH'd all the way back to BOX17…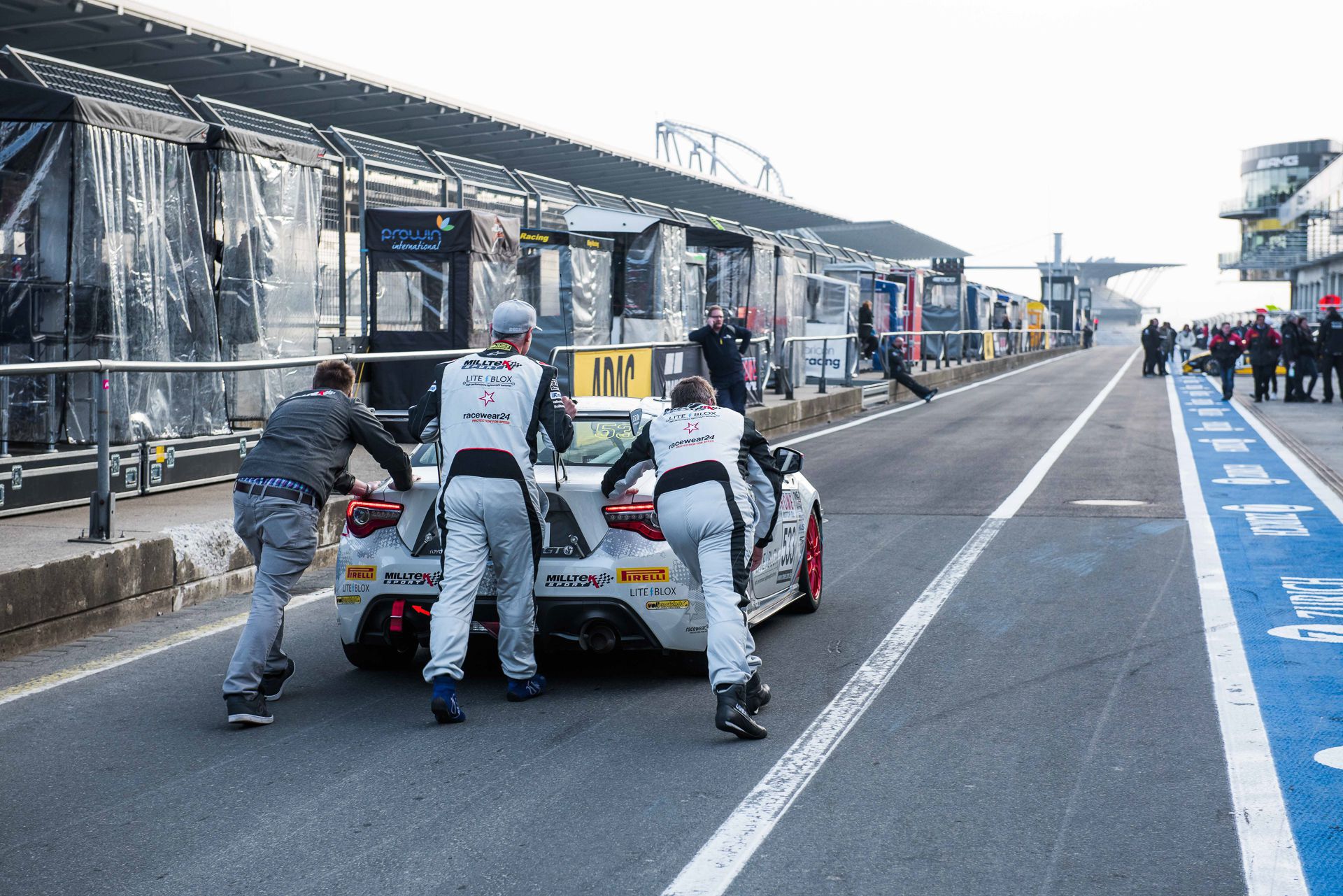 Now you might wonder why we weren't changing the car too much after VLN1, despite us being quite a few seconds off the pole position lap, but the answer is simple. Datalogging.
QUALIFYING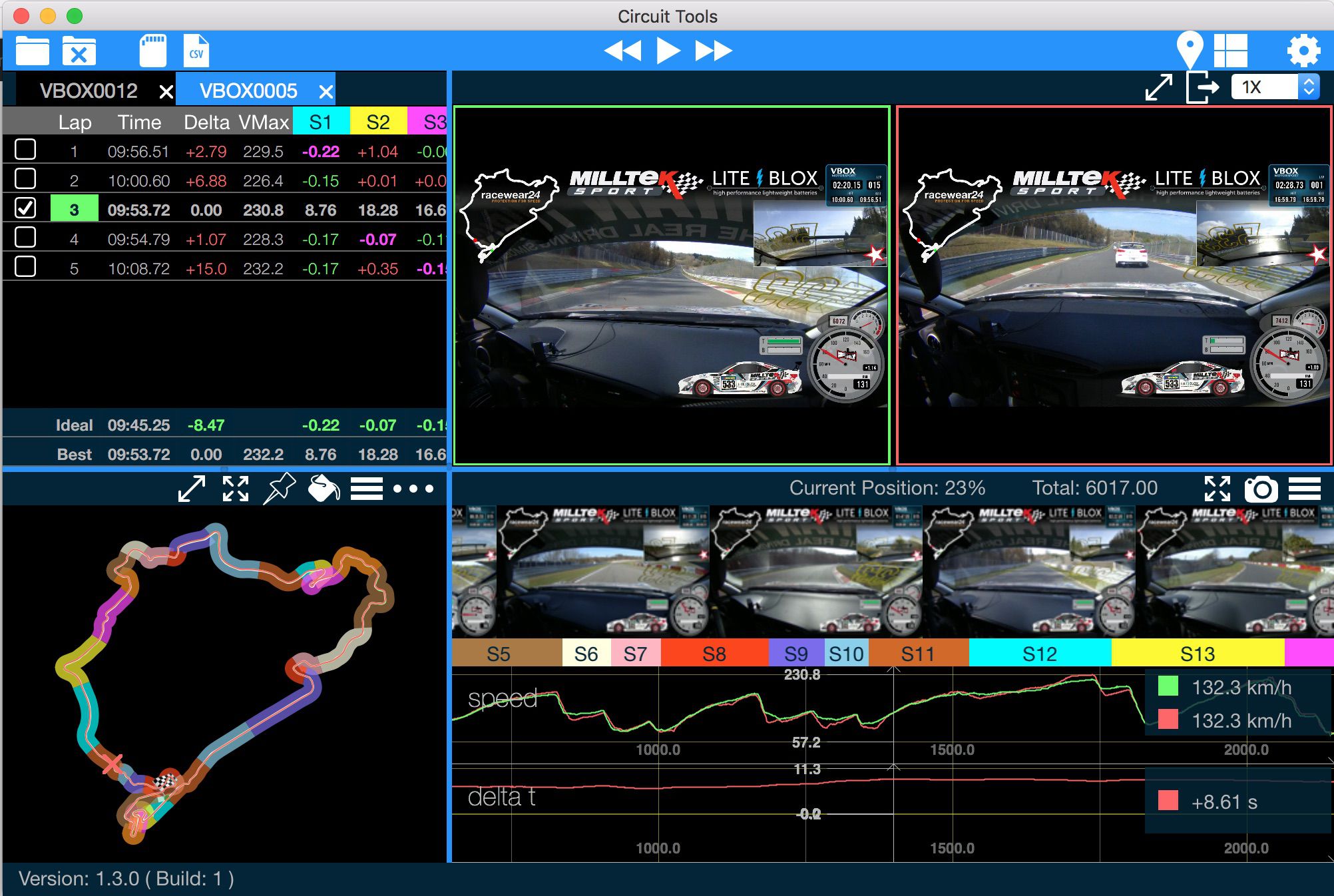 I'm a big fan of Circuit Tools, and what I could see from VLN1 was that both Luke and me were capable of a pole-position laptime in the class. We just needed to be concentrating and driving at our best if the planets aligned and we got a traffic free lap.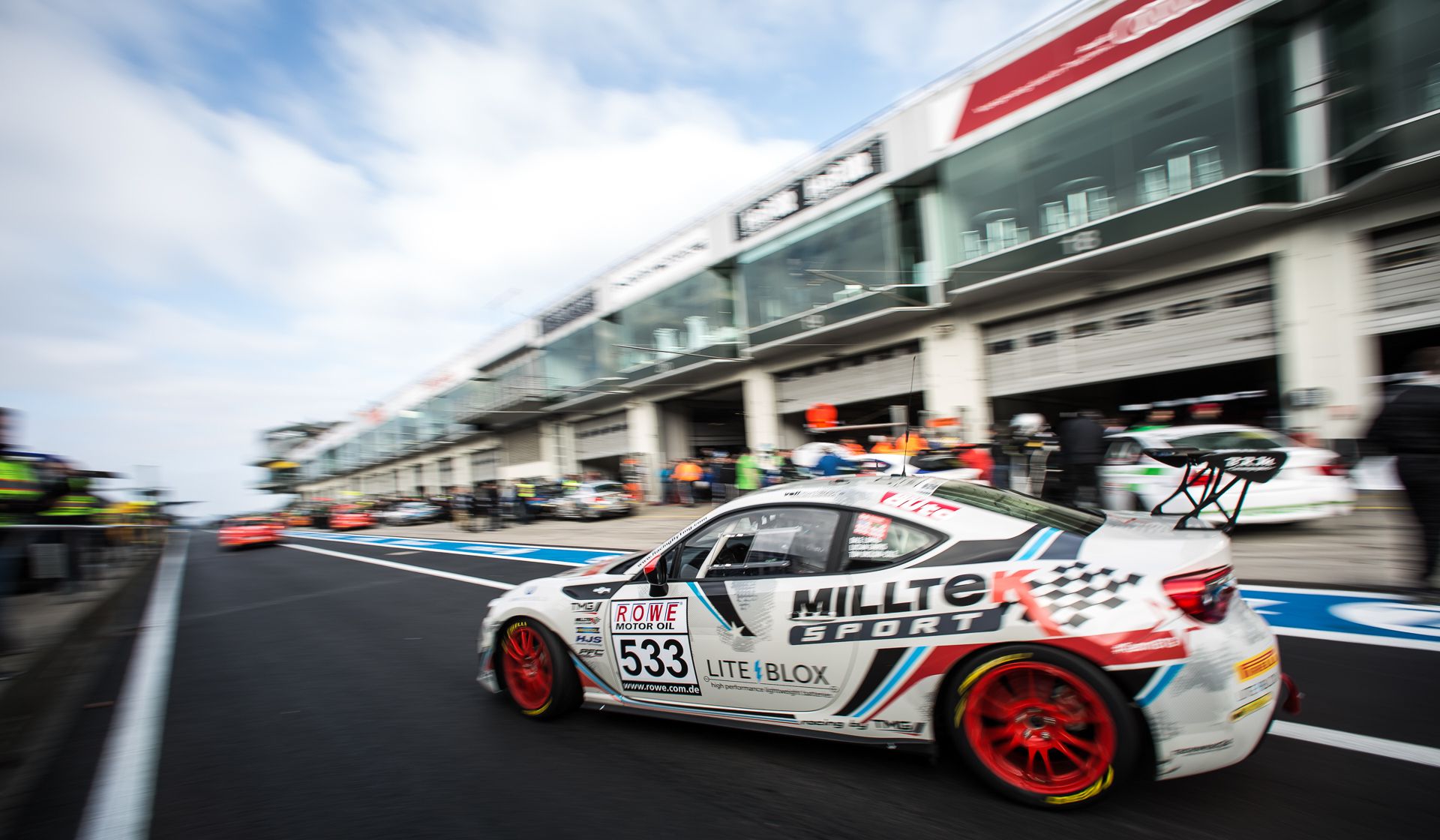 After a warm-up, Steve decided to throw some new brand-new Pirellis on and let us go looking for a Pole Position (and 2 bonus championship points). I went first, and while I was happy enough with my pace, I didn't get anything close to a clean run and ended up putting the car 3rd place with a 9m50s. A 9m44 or better being required, I was disappointed to say the least. Luke's turn didn't go much better. On his first flier, he caught a far worse section of double-yellow flags and didn't do any better. Another 9m50s. But with a few more minutes available, we told him to take a breather, cool the tyres and give it one more shot…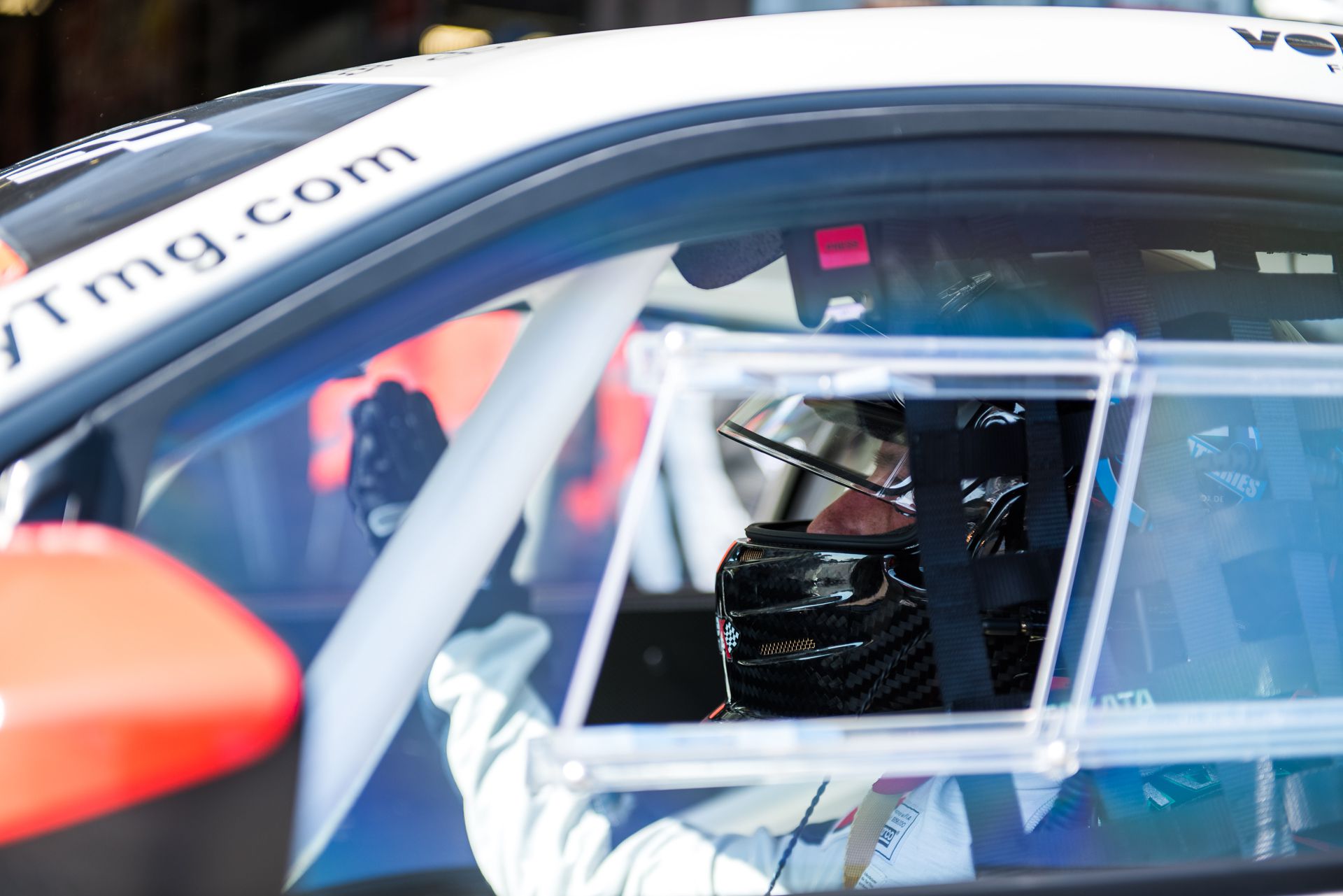 What can I say? He nailed it. Balls to the wall, our little GT86 was on the limit the whole way around the track. Watch for yourself…
Yes, it was super-hot, but the Gods weren't smiling, and a double-yellow Code 120kmh into the normally-220kmh Tiergarten section put paid to Luke's hopes by a good 7 seconds. And if you want to see it in black-and-white, here's what Circuit Tools said…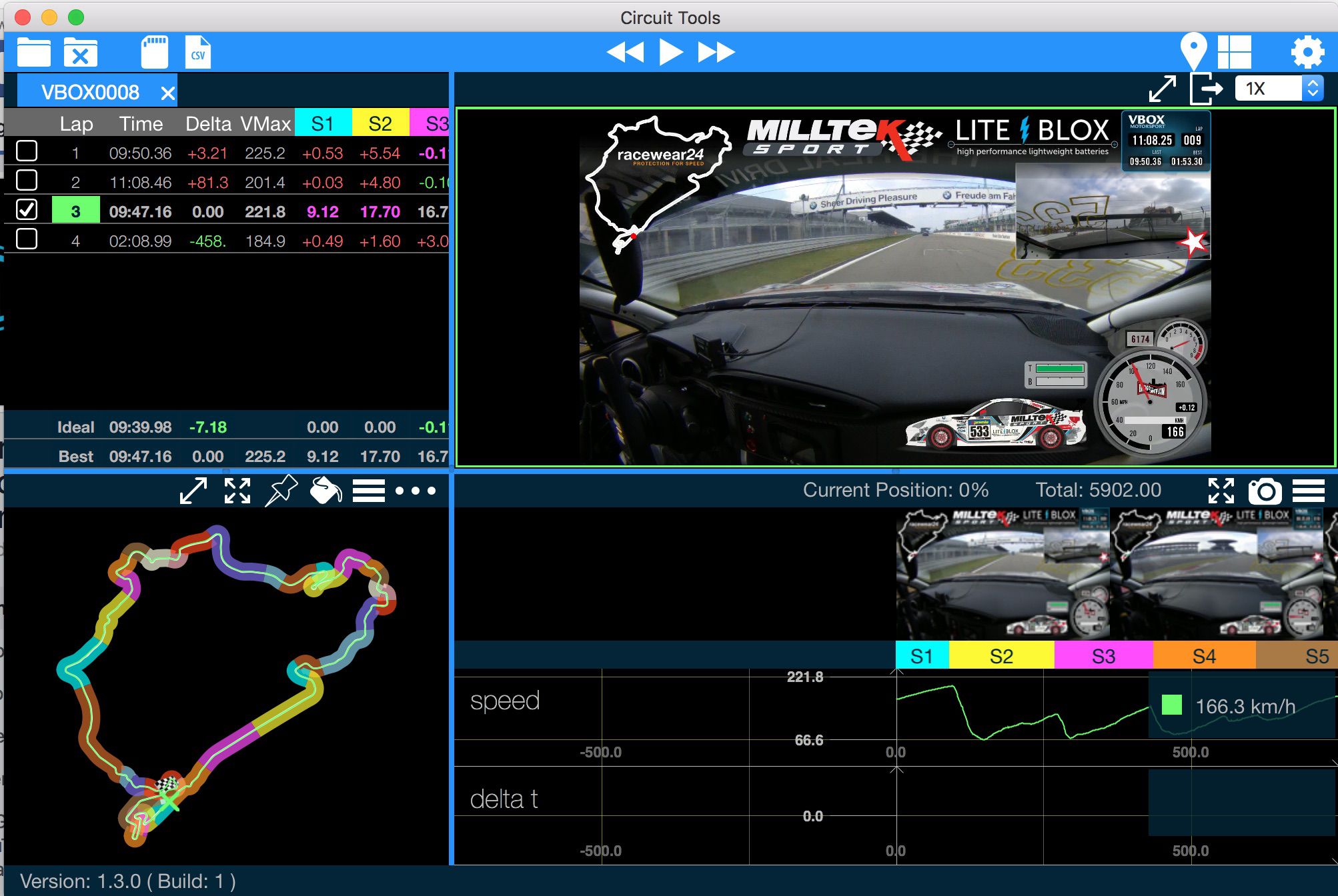 Top left window, "Ideal" is the best sector-combination of Luke's 3-lap stint. Lap 1 being the first attempt, Lap 2 being a cool down, Lap 3 putting us in P2 despite that code 120kmh…
RACE
My turn to pilot the Milltek GT86 over the first stint had arrived, and I was slightly nervous. The first lap is nearly always chaotic, and it's way too easy to get involved in somebody else's accident. Particularly in those first few corners…
And at the second hairpin of the GP circuit, barely a minute into a 4-hour race, I got tagged by a tentatively-driven Cayman.
Not only was he so slow that I ended up driving the whole way around his outside, but he left a gap big enough for the Belgian PitLane GT86 Cup to slide up his inside too. His over-reaction to the situation left a multi-thousand-euro cosmetic dent in our brand-new GT86, but luckily no lasting damage.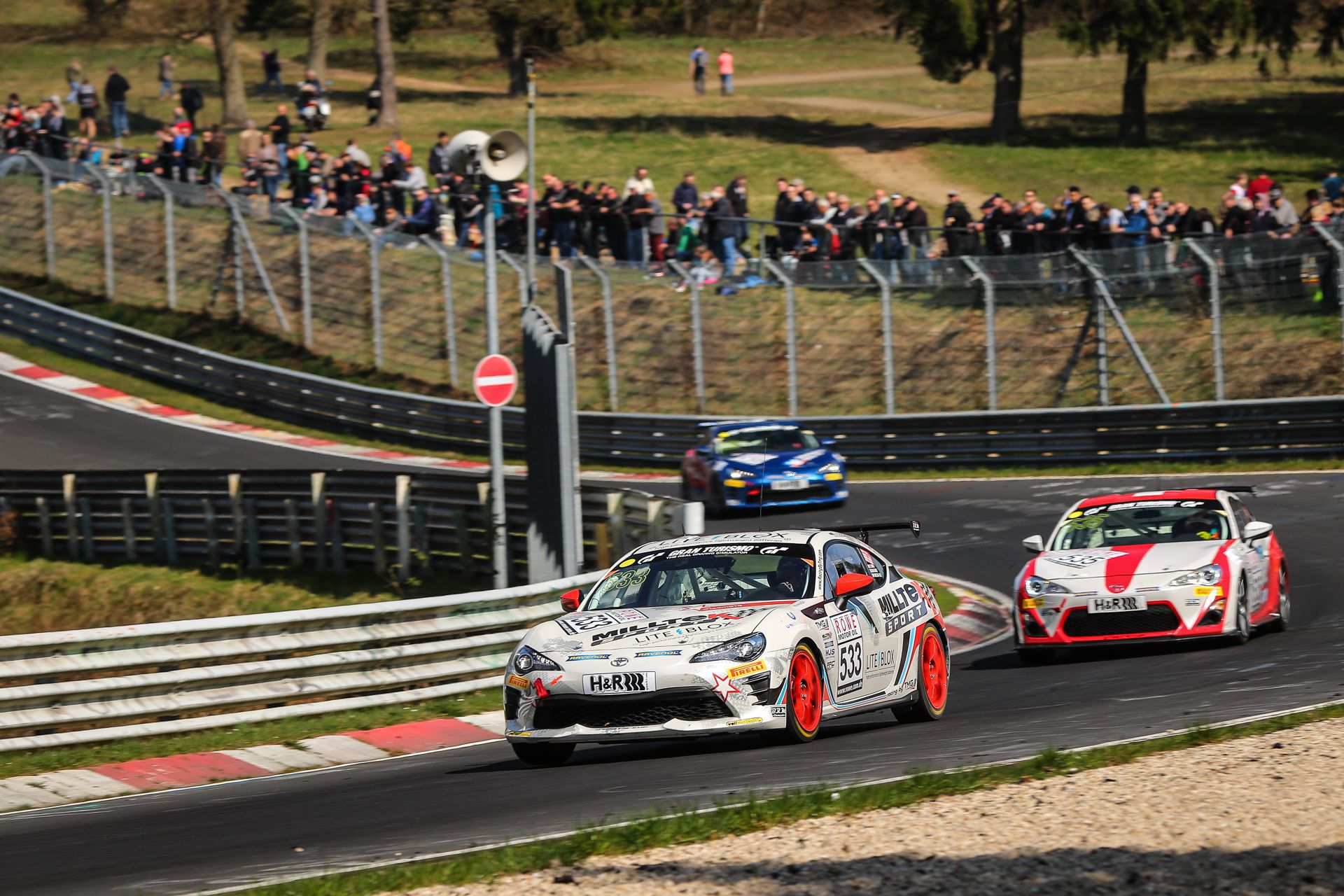 But in that Lap1 chaos, I'd gone from P2 to P3 and lost touch with the Swiss and Belgian cars. It would take me another 4 laps and some lucky moments with the traffic to finally re-take the lead in our class…
But all this pedal-to-the-metal dogfighting, and not so many Code 60 limits as the first race had took its toll on our fuel reserve. And shortly after conceding P1 on the road to the hard-charging  Ring Racing car, three of the leading four GT86s had to pit one whole lap early!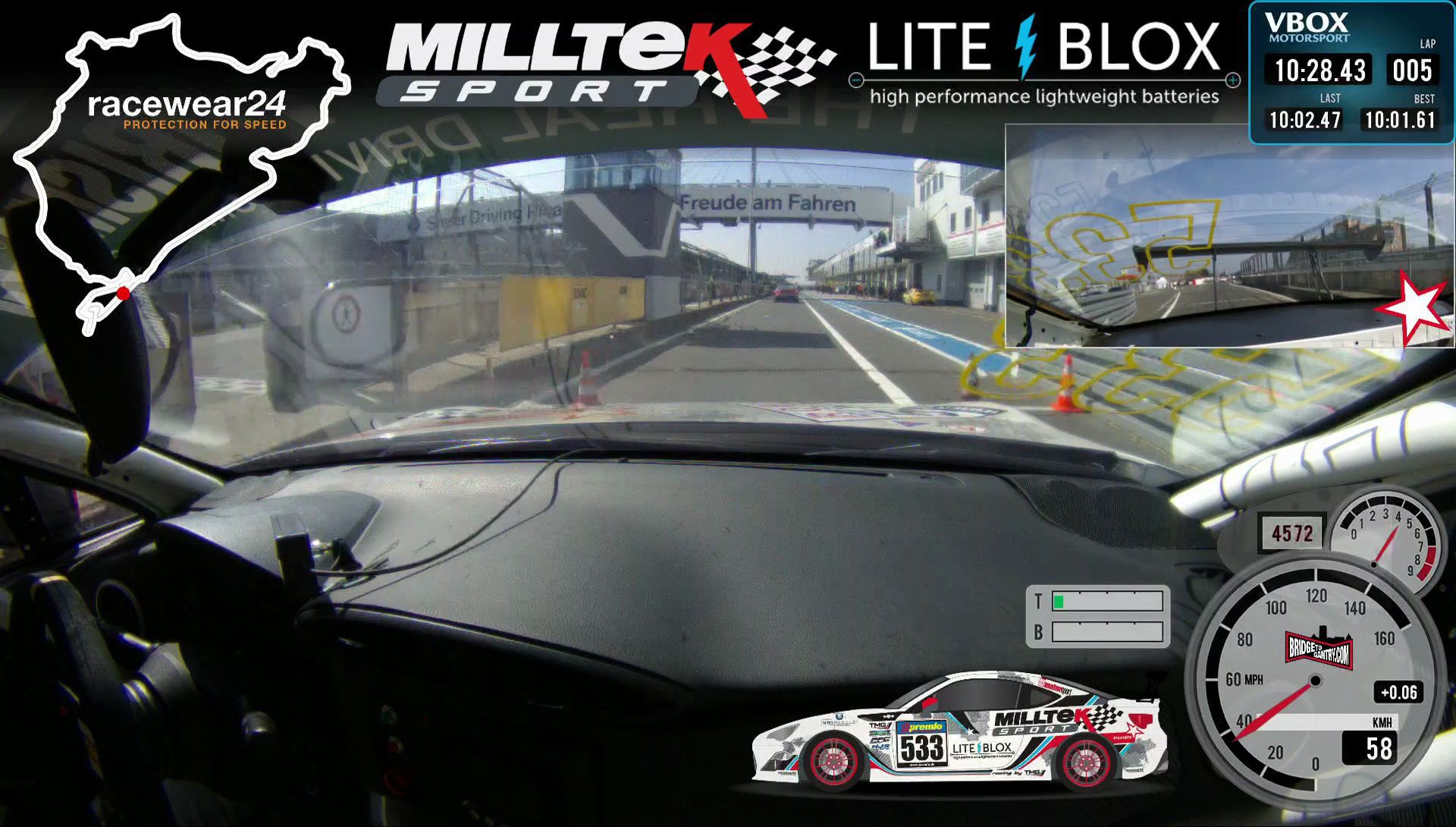 It's hard to tell, but trust me, that's the red/blue RingRacing car ahead and the white Pitlane car behind us. And the Swiss car was behind us all, but would stay out one more lap. Running on fumes, conserving fuel, but somehow squeezing the maximum stint of 6  racing laps out of his tank.
Unfortunately this is where our luck started to turn around. A slow pitstop caused by a stuck fuel filler cap (the pull-to-release cable got caught inside the hatch) put us out nearly 25 seconds behind the other cars. Luke drove his socks off for the full 6 laps, climbed us as high as P2 and it was my turn to jump in again.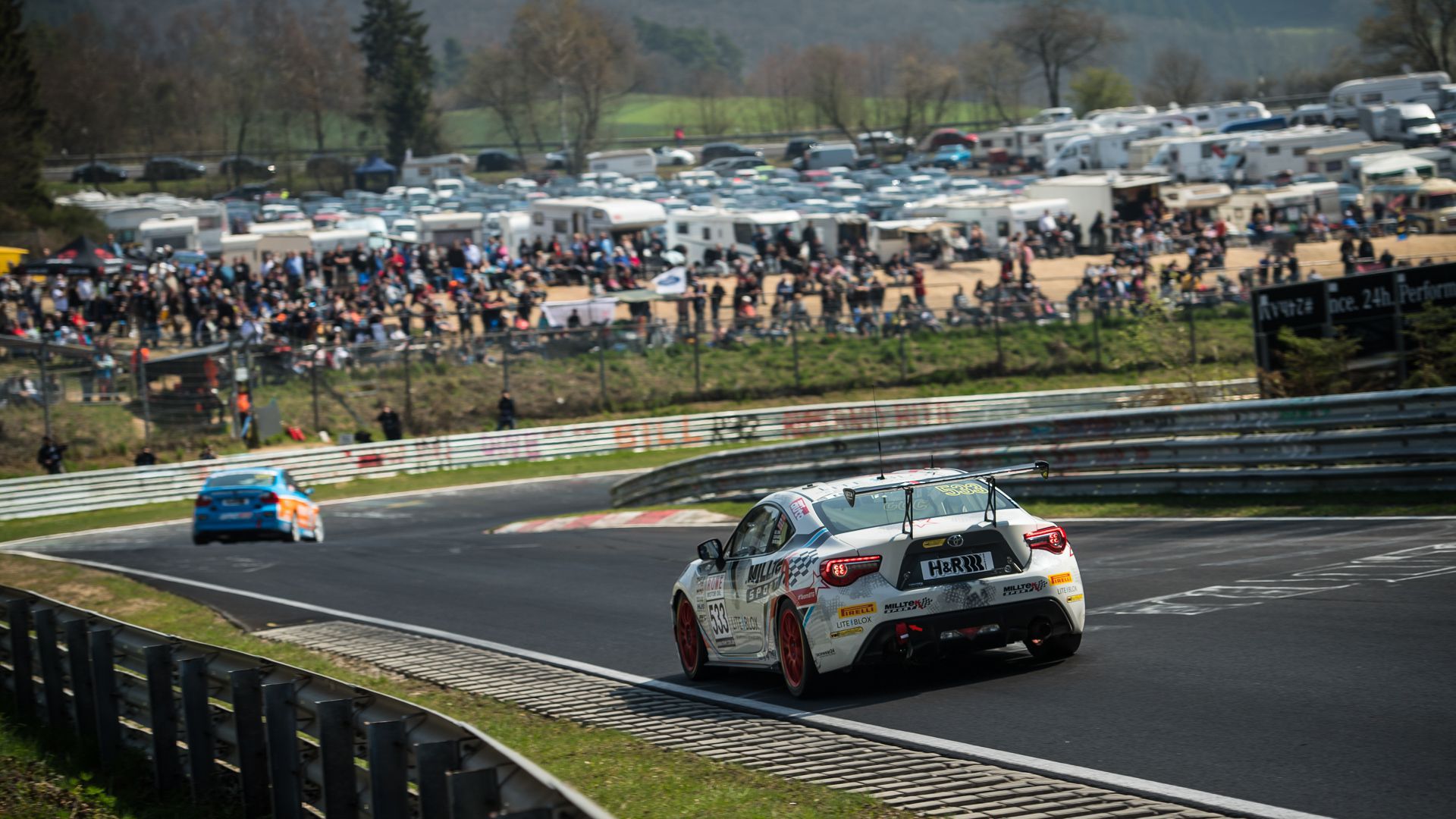 Again, it was another 'slow' stop, this time thanks to a none-co-operating window net that just refused to stay clipped. Luke bashed it, I hit it. It fastened on the third time of asking. It wasn't too bad, but it was another few seconds delay in a class where all of us leading cars are lapping in pretty much the same time.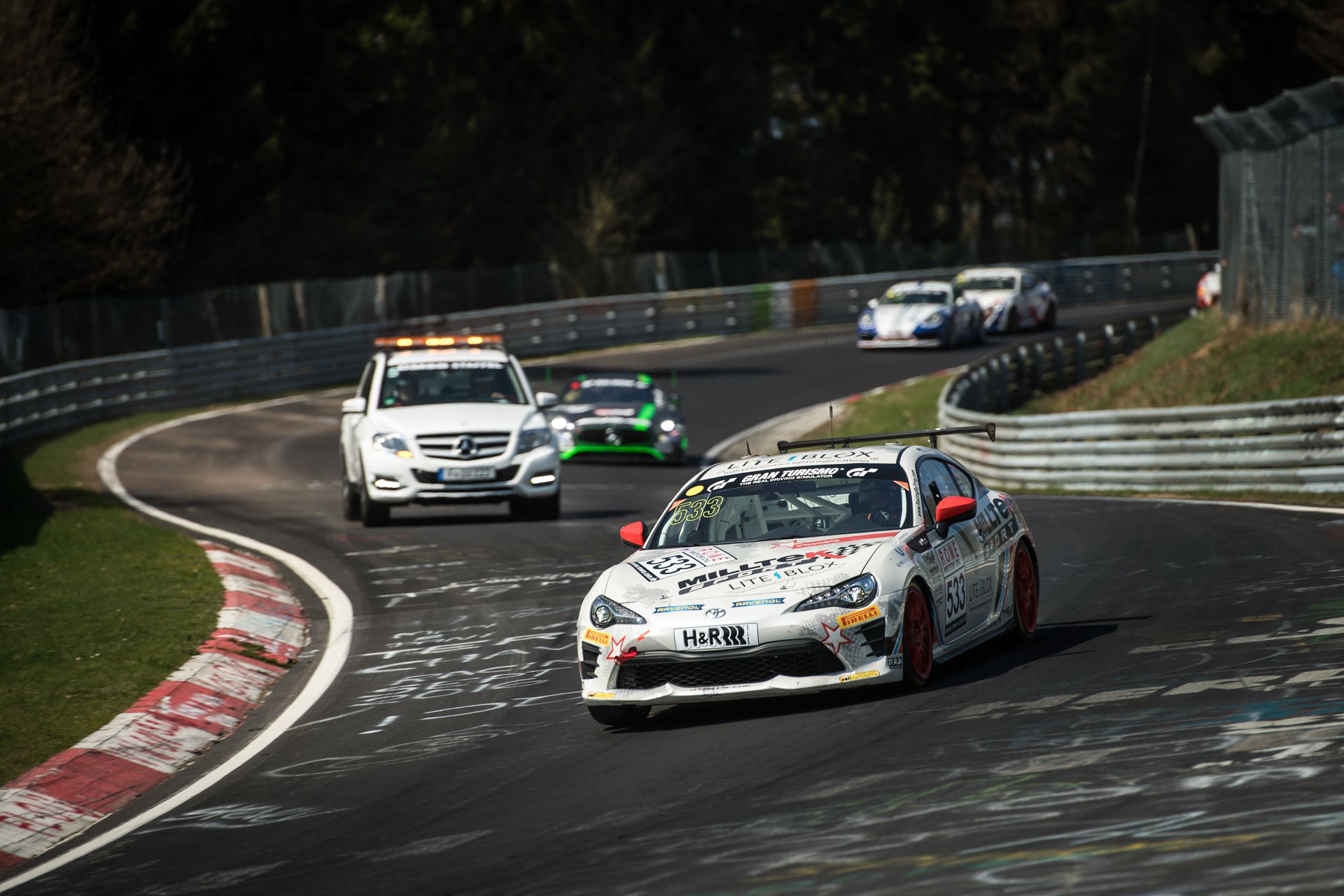 When it came to the 'final' driver change, we finally nailed a pitstop. I jumped out, Luke jumped in and we had the fastest pitstop of the whole field. But we were in 2nd place and the race was in its last hour… and the surprises weren't over yet.
Remember; the Swiss car had stayed out 1 extra lap at the start of the race. And as we passed hour 3 of the the 4-hour race, it became obvious that the leading GT3s were probably going to go over the line somewhere around the 3hr57minute mark. Which would make our 4-hour race into a 4-hour and 15-minute race.
WHY? Let me explain some background, class regulations are clear for the GT86 Cup. We can drive maximum 6 laps per stint. This means an 18-24 lap race can be shared by 3-4 drivers and that we can use the stock 50ltr tank. This keeps costs down. It's a good idea.
But because we'd all pitted one lap early, Luke and the leading car would be completing lap 6 of their stint at exactly 4-hours and 2-minutes. And the race would NOT be finished at this point, because the clock has to be PAST 4-hours-completed before the leading car of the whole race can be shown the chequered flag.
Awkward! Because REMEMBER the P3 car about 25 seconds behind now, having 1 lap in hand, wouldn't need to stop at all! The scene was set for an epic last-lap showdown…
…that we wouldn't be there for. Because our fantastic, wonderful, pit-lane partners LMS Engineering locked the pumps shortly before 4pm and went home without telling us. Totally against the rules, absolutely unforgivable. But they did it.
So we lost a ridiculous amount of time changing pumps at the splash-n-dash, and we were lucky to still finish third.
Up front the red-blue Ring Racing car left pitlane like a bat out of hell, and after an epic last-lap battle with the Toyota Swiss car, it scooped the lead by 0.984 seconds.
I'd be lying if I said we weren't disappointed. Third place from eight-hard-driving cars was awesome, but it was no win. We can, however, console ourselves with a solid championship lead and the hope that we can get a clear lap and maybe take a cheeky pole position too.
Photos by Ollie Wildsmith, Patrick Funk and 1Vier.com
Comments
comments